Burst of Spring Party Tablescape Décor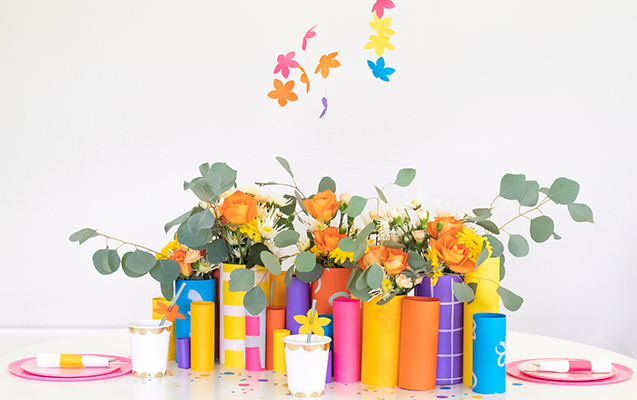 BY HOLLY WADE
Club Crafted
As we head into spring, it's a great time to start breaking out the bright colors to host a colorful spring party with a variety of DIY paper décor made with ASTROBRIGHTS ® Papers cardstock! Pick your favorite color scheme and let the colors speak for themselves. Inspired by spring florals, this party includes a variety of DIY paper décor, including a paper-wrapped vase display, homemade confetti, napkin rings, paper straw decorations and a colorful floral chandelier.
In this colorful spring party, I used ASTROBRIGHTS Celestial Blue®, Plasma Pink™, Orbit Orange™, Galaxy Gold™ and Gravity Grape™.
Easy Paper Wrapped Vases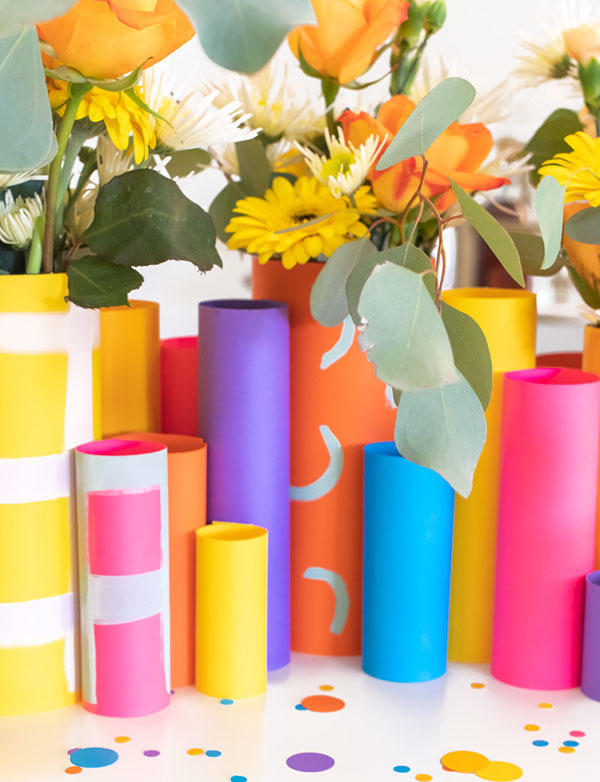 Step 1: Paint one side of each sheet of colored cardstock in your desired patterns. Let dry completely.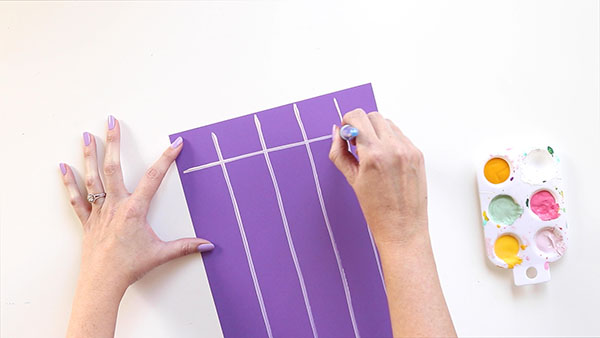 Step 2: Once dry, wrap the paper around a vase to measure. Mark the top of the vase and trim the paper to size.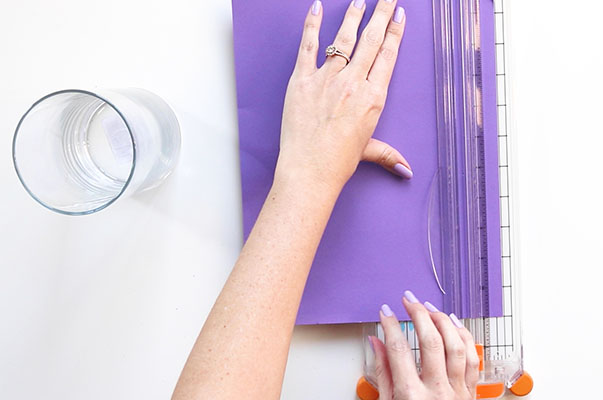 Step 3: Glue the paper around the vase with hot glue.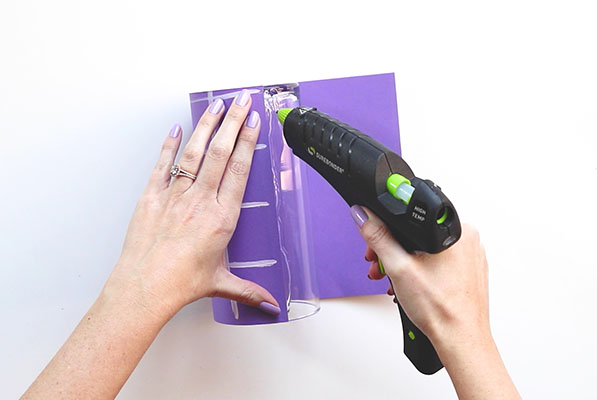 Repeat with multiple vases. Fill with real or fake flowers. Arrange paper wrapped vases together on a table with additional rolls of paper in various sizes and heights for fullness.
Paper Floral Chandelier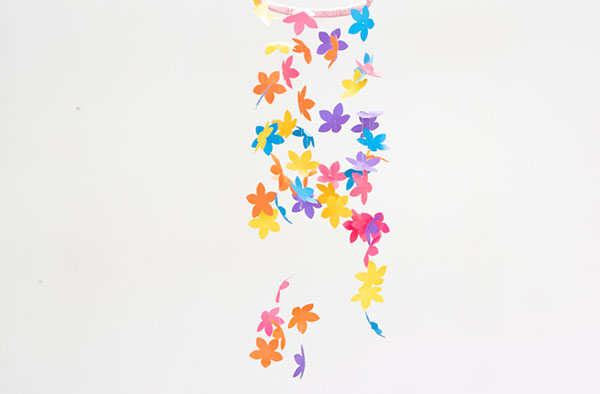 Supplies:
ASTROBRIGHTS Assorted Colored Cardstock

Embroidery hoop

Large flower punch

Glue gun

Clear fishing line

Poking tool

Scissors

Thick, colored string (optional)
Step 1: Punch flower shapes out of various colors of cardstock.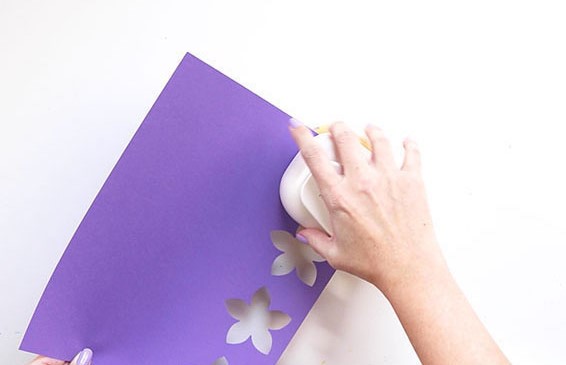 Step 2: Poke through the center of each flower (you can do this with a variety of household objects). Lightly bend the petals of the flowers for dimension.
Step 3: Thread a piece of fishing line through the hole of a flower. Glue in place with the hot glue gun.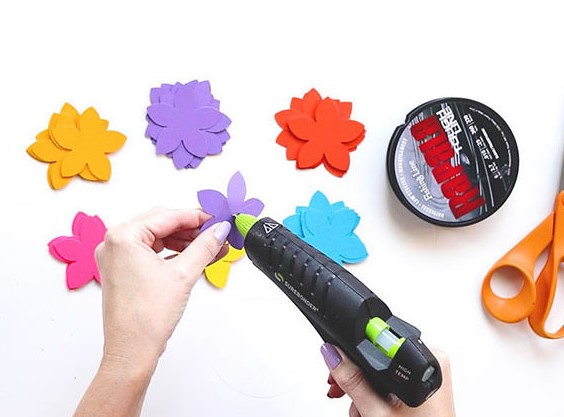 Step 4: Repeat with additional flowers on one strand of fishing line, leaving space between each. Make as many strands as you want for a fuller floral chandelier.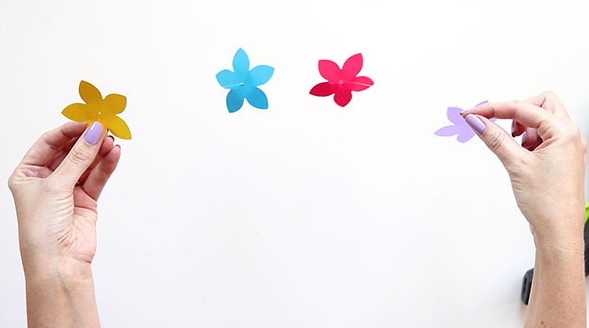 Step 5: Tie the top of the fishing line to the embroidery hoop. Repeat with multiple strands spread out around the hoop. For best results, make strands varying in length.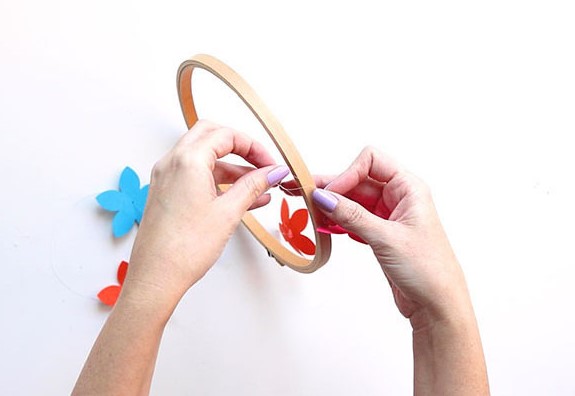 Step 6: Using a thicker string, tie a piece of string at four points around the hoop to create a way for the floral chandelier to hang.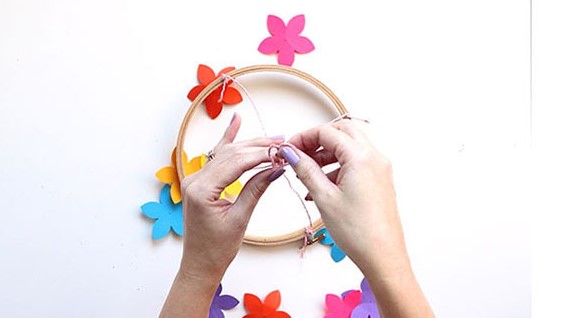 Step 7: Lastly, glue the thicker, colored string to the embroidery hoop and wrap it all the way around the hoop. This creates a finished look and helps secure the fishing line so that the strands do not move around.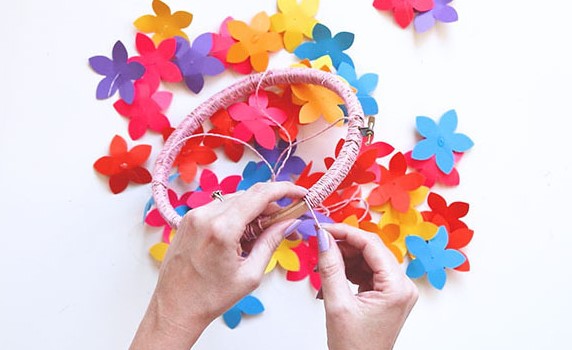 Hang the paper floral chandelier from your ceiling over the paper vase display, or hang it in a corner for a pop of color.
Paper Flower Straws, Napkin Rings and Confetti Decorations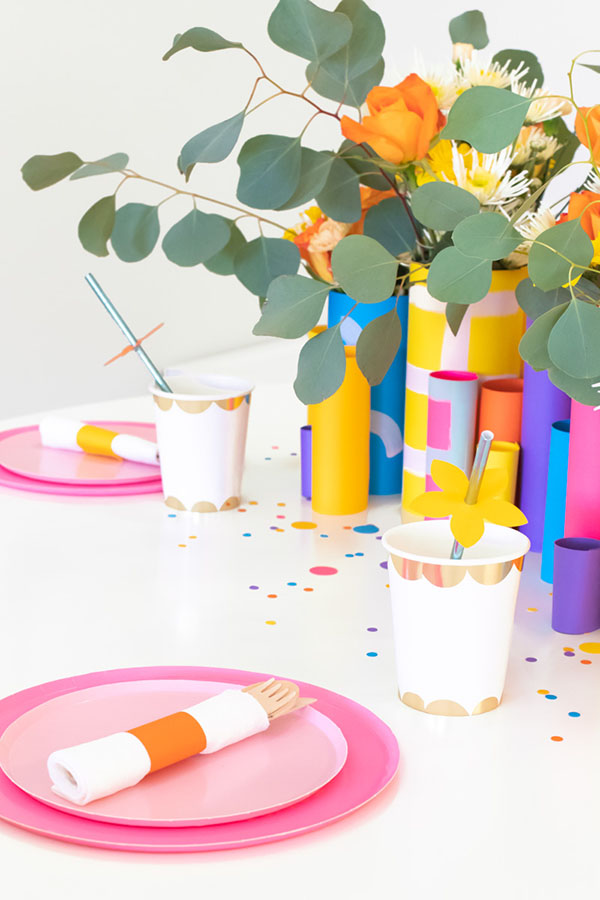 Paper Flower Straws
Supplies:
Step 1: Punch out flower shapes in multiple colors. Then punch a hole in the middle.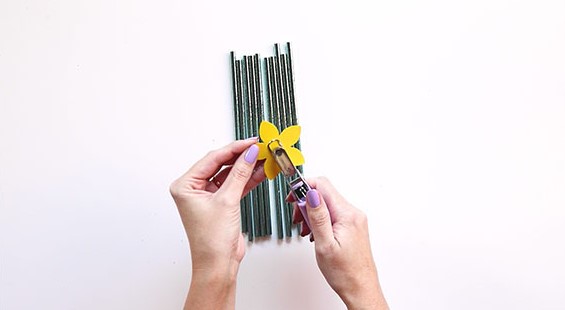 Note, in this case, a standard hole punch should be approximately the same size as a straw.
Step 2: Thread the punched flower onto a straw. Leave about 2 inches for drinking and glue the bottom of the flower to the straw to hold the decoration in place.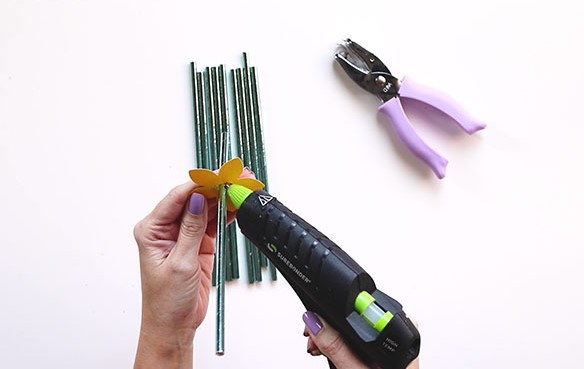 Adorn each cup at your colorful spring party with a paper flower straw, or place them all in a cup for guests to grab their own.
Paper Napkin Rings
Supplies:
ASTROBRIGHTS Assorted Colored Cardstock

Paper trimmer or scissors

Glue gun

Napkins
Step 1: Cut a piece of cardstock to about 1.5 inches x 3 inches. Repeat with multiple colors.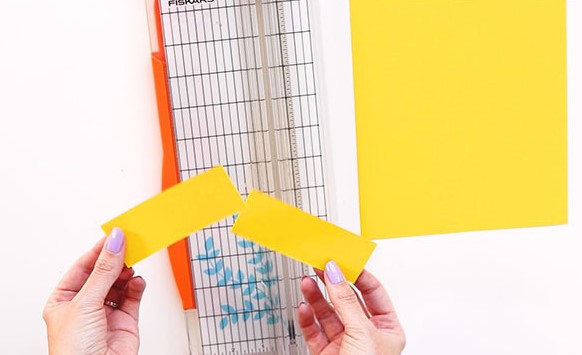 Step 2: Wrap utensils in a napkin or simply roll up napkin. Wrap the paper strip tightly around the napkin and glue the ends together at the back.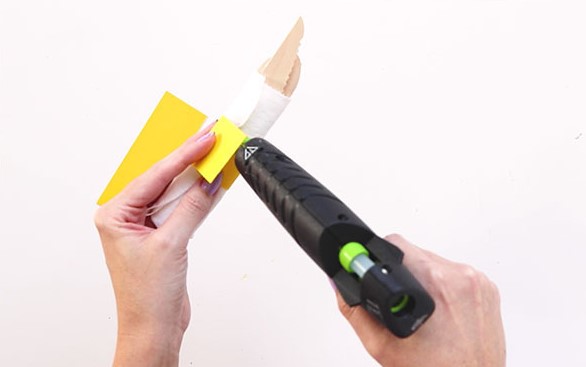 Set each place setting with paper napkin ring-wrapped utensils.
Quick Paper Confetti
Supplies:
Step 1: Layer two pieces of cardstock together. Punch with a standard hole punch or a small circle punch to create confetti. Repeat with all colors until you have enough to decorate.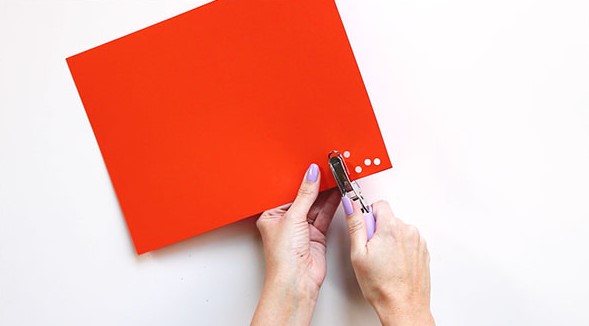 Sprinkle confetti on your table for added pops of color. Bag additional confetti for celebrating with later!
Whether you try these paper décor DIYs all together or as single projects, you're ready to COLORIZE your next party!
Colors To Use: