St. Patrick's Day Lucky Rainbow Décor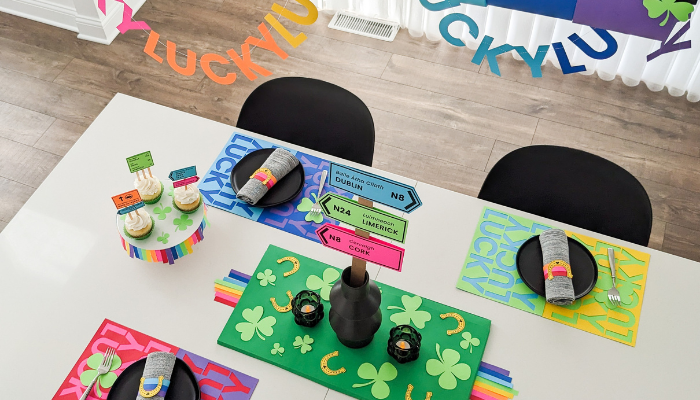 BY KATHY BEYMER
Merriment Design

Spread lucky vibes with my lucky rainbow DIY décor for St. Patrick's Day! Whether you're hosting a St. Patrick's Day party or just celebrating with your family at home, my rainbow-themed décor using Astrobrights papers will help make your St. Patrick's Day even more colorful.
Rainbows symbolize hope, happiness, and good luck. My easy St. Patrick's Day décor project includes three simple paper crafts that use all the colors of the rainbow. You'll be making lucky horseshoe napkin rings, lucky rainbow garland, and lucky placemats for your table.
Supplies:
Astrobrights® Prism paper pack and Astrobrights Bright cardstock pack

Scissors

Paper cutting machine for the garland and placemats

Glue stick

Sewing machine or alternatively, a hole punch and string/ribbon
We'll be using Re-Entry Red™, Fireball Fuchsia™, Cosmic Orange™, Solar Yellow™, Martian Green™, Lunar Blue™, Celestial Blue™, Gravity Grape™.
+++
Lucky Horseshoe Napkin Rings
Step 1: Print my horseshoe templates onto Solar Yellow cardstock, cut out, and set aside.
Step 2: Print my napkin rings template onto Astrobrights paper, cut out, and glue together to make small rainbows. My rainbows were Re-Entry Red + Fireball Fuchsia + Cosmic Orange and Lunar Blue + Celestial Blue + Gravity Grape.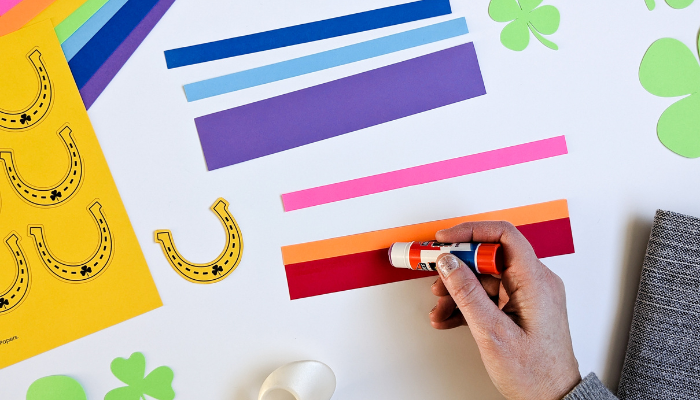 Step 3: Cut two slits in the napkin ring on opposite sides. Wrap the napkin ring around a rolled cloth napkin and secure by sliding the slits together.
Step 3: Attach horseshoes to the napkin rings with adhesive dots or a glue stick.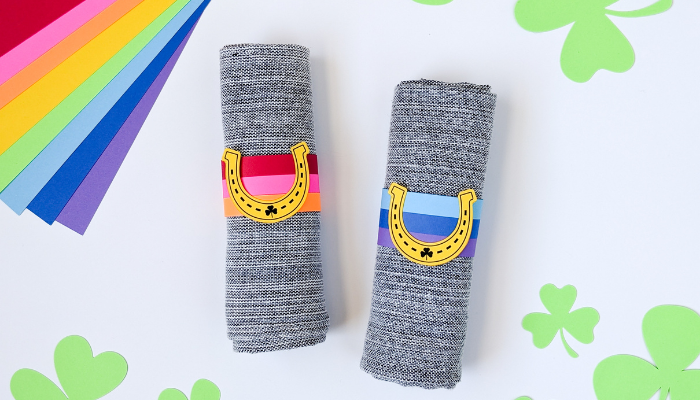 Lucky Rainbow Garland
Step 1: Cut out L-U-C-K-Y letters using a paper cutting machine and my SVG file. I cut LUCKY from rainbow colors: Re-Entry Red, Fireball Fuchsia, Cosmic Orange, Solar Yellow, Martian Green, Lunar Blue, Celestial Blue, Gravity Grape.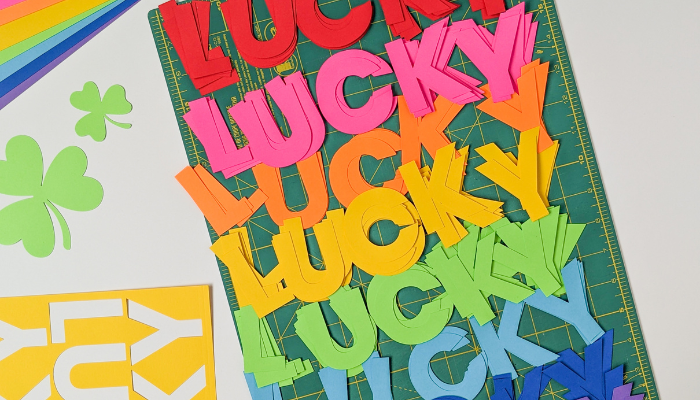 Step 2: Sew letters together into a rainbow garland, or alternatively, punch holes and string onto a string or ribbon. Either method works well.
Step 3: Hang your lucky garland onto a light fixture, wall, or mantle.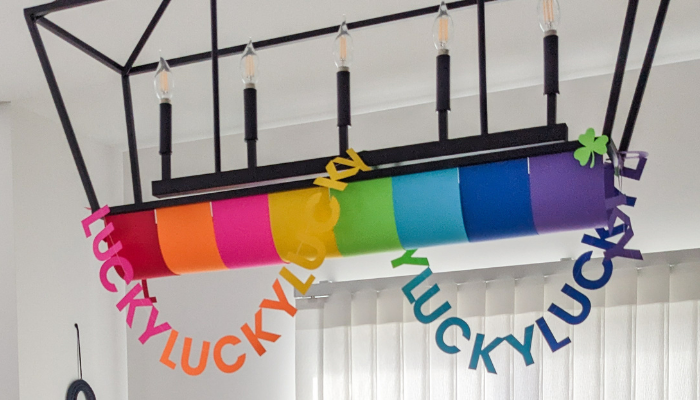 Lucky Placemats or Table Runner
Step 1: Save the paper scraps from your garland project to make LUCKY placemats or a table runner. Carefully peel the LUCKY silhouette from your cutting mat.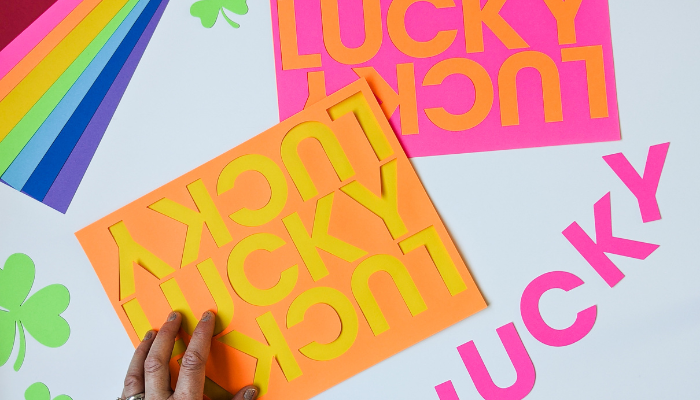 Step 2: Glue the LUCKY silhouette onto another full sheet of Astrobrights paper. Repeat for all the colors.
Step 3: Tape the backs of two colors together to create one placemat. If you'd like to make a table runner instead, then tape all the colors together into one long strip. You may decide to laminate the placemats at your local office supply store to re-use them each March.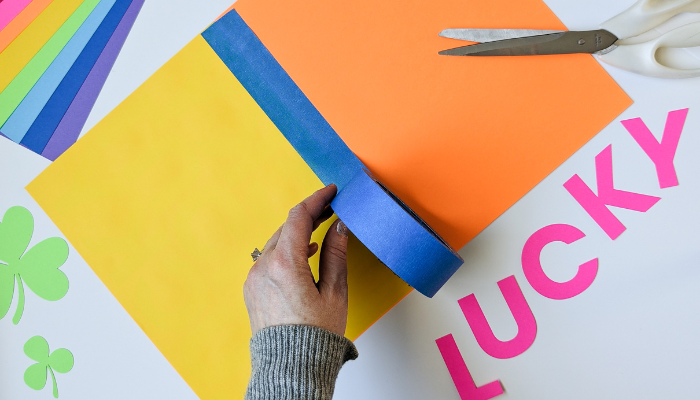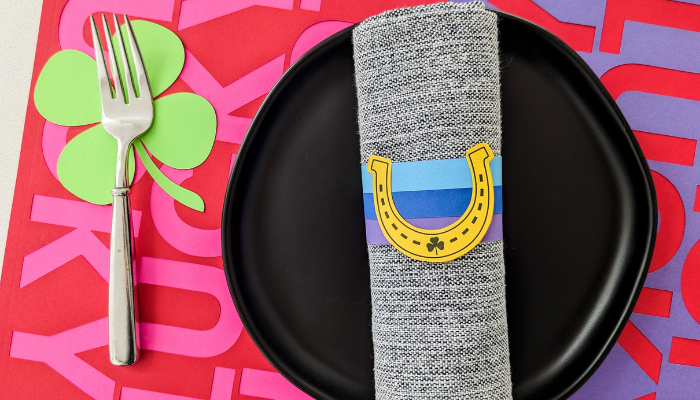 Be sure to also check out my coordinating Irish road signs centerpiece and cupcake toppers project at Astrobrights.com. Have fun making my lucky rainbow decorations for St. Patrick's Day!
Kathy Beymer
Instagram: @kathybeymer
Pinterest: @merrimentdesign