ASTROBRIGHTS PACKAGING GETS A COLORFUL MAKEOVER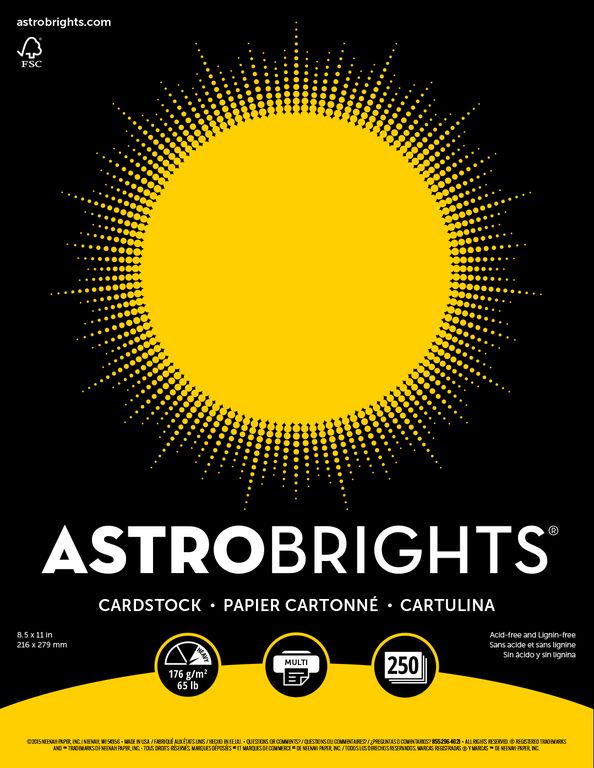 Alpharetta, GA (May 23, 2016) – One of the most recognized brands in the paper industry is getting a makeover. Astrobrights® Papers is rolling out a fresh, new look, marking the brand's first major change since its launch in 1969.
Astrobrights offers the largest selection of high-quality, brightly-colored paper in the industry, with 25 vibrant colors. The branding refresh includes an update to Astrobrights' packaging and a new tagline.
The new look is simple, fresh and consistent with the brand's promise to deliver clever solutions to everyday challenges. Brighter colors. Brighter ideas.™ illustrates the power of the product's bright colors to help bring consumers' bright ideas to life.
"By modernizing the look of Astrobrights, we're allowing the brand's value to really stand out," said Jeremy Frank, Astrobrights Papers Senior Brand Manager. "Our fresh new packaging pays homage to the brand's history, yet feels as current and unique as the product itself."
Astrobrights was the first company to offer brightly colored paper. Its launch occurred shortly after the United States became the first country to land on the moon. This national milestone evoked such strong national pride that Astrobrights adopted a named to reflect that same sense of ingenuity, imagination and creativity. Each of the 25 colors in the Astrobrights line is named with a celestial spin, the most popular sellers being Solar Yellow, Terra Green and Lunar Blue.
To learn more about Astrobrights, visit thepowerofpaper.com.
###
For media inquiries, please contact:
Lauren Jarrell Dannah Burgess
WITH/agency Assistant Brand Manager, Consumer Brands
lauren@thewithagency.com dannah.burgess@neenah.com
404-593-5268 678-518-3240
Neenah (NYSE: NP) is a leader in premium image and performance-based products, including filtration, specialized substrates used for tapes, labels and other products, and high-end printing papers. Products are marketed under well-known brands such as CLASSIC®, ASTROBRIGHTS®, ENVIRONMENT®, CRANE®, ROYAL SUNDANCE®, SOUTHWORTH®, KIMDURA®, Gessner®, CRANEMAT™, CRANEGLAS™, JET-PRO®, SofStretch™ and Varitess®. Neenah is headquartered in Alpharetta, Georgia, and its products are sold in over 70 countries worldwide from manufacturing operations in the United States and Germany. Additional information can be found at the company's web site, www.neenah.com.