THIS TEACHER WON $5,000 FOR USING COLOR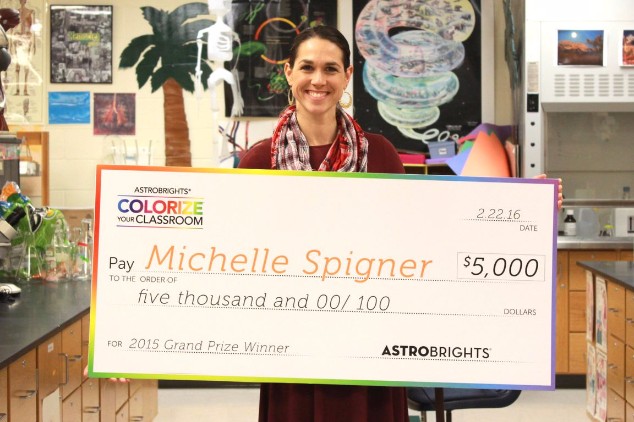 Alpharetta, GA (Feb. 23, 2016) – Michelle Spigner, a biology teacher at Spring Valley High School in Columbia, South Carolina is the Grand Prize winner of Astrobrights'® 2015 Colorize™ Your Classroom. Representatives from Astrobrights recently presented Spigner with an award of $5,000 to help transform her classroom into the ideal learning environment for her students.
Now in its second year, the annual Colorize Your Classroom has become an anticipated and highly competitive contest amongst teachers across the country. The program tasks teachers to submit original projects that demonstrate how color can help overcome common problems in the classroom. This year's challenges focused on organization, décor, memorization and differentiated learning.
Spigner's winning entry used color to help her students understand and retain complex biology processes.
"I learned a long time ago, through my own experience, that of my students and reading the research, that using color during instruction and activities can enhance memory of students while learning challenging concepts," said Michelle. "Color helps my students understand complex processes such as biomolecule structure, synthesis of polymers, DNA replication, transcription and translation DNA technology, photosynthesis and cellular respiration."
Studies show that color can increase memory by up to 50 percent and help students remain engaged. The Bright Minds, Astrobrights' brand ambassadors and team of education-focused bloggers, chose Spigner's project as the Grand Prize winner for its creative demonstration of how to leverage color to facilitate learning.
Colorize Your Classroom produces a go-to source for inspiration and ideas for teachers when they need it most, as they return to the classroom to begin the school year. More than 1,700 photos of 650 distinct projects were submitted for this year's contest, a more than 400 percent growth in just one year.
"Colorize Your Classroom is Astrobrights' way to thank teachers for consistently inspiring our brand and their students with their creative use of color, even amidst limited resources and shrinking budgets," said Jeremy Frank, consumer brand senior manager for Neenah Paper. "By corralling the best of their creativity, we have provided a space for them to inspire one another."
Neenah (NYSE: NP) is a leader in premium image and performance-based products, including filtration, specialized substrates used for tapes, labels and other products, and high-end printing papers. Products are marketed under well-known brands such as CLASSIC®, ASTROBRIGHTS®, ENVIRONMENT®, CRANE®, ROYAL SUNDANCE®, SOUTHWORTH®, KIMDURA®, Gessner®, CRANEMAT™, CRANEGLAS™, JET-PRO®, SofStretch™ and Varitess®. Neenah is headquartered in Alpharetta, Georgia, and its products are sold in over 70 countries worldwide from manufacturing operations in the United States and Germany. Additional information can be found at the company's web site, www.neenah.com.
###
For media inquiries, please contact:
Lauren Jarrell Jeremy Frank
WITH/Sims Consumer Brand Senior Manager
lauren@withsims.com jeremy.frank@neenah.com
404-593-5268 678-518-3240