3 Ways to Make Paper Thanksgiving Retro Décor: A 3D Paper Mural and More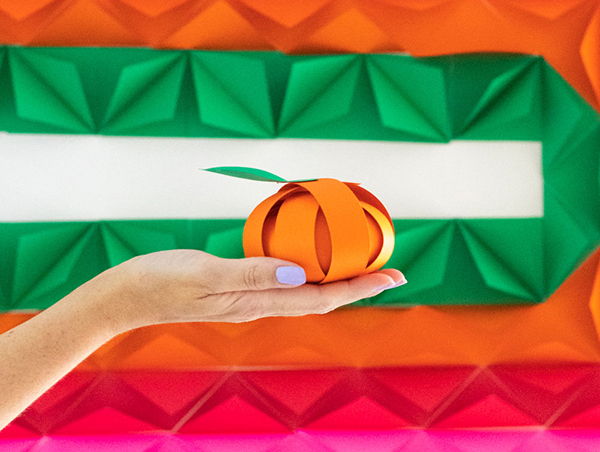 BY HOLLY WADE
Club Crafted
November is fast approaching and you know what that means…Thanksgiving! Although things are different this year, you can still celebrate Thanksgiving at home and make it feel special with ASTROBRIGHTS®! To prepare for my first time ever hosting a Thanksgiving dinner, I started playing around with paper Thanksgiving décor ideas and came up with this retro-inspired 3D paper mural featuring the ASTROBRIGHTS Mega Collection "Retro" Cardstock Assortment, exclusive at Amazon. To pull out the colors of the paper mural, I also made a woven paper table runner and pumpkin treat place holders.
In the ASTROBRIGHTS Mega Collection "Retro" Cardstock Assortment, you'll find Solar Yellow™, Pulsar Pink™, Cosmic Orange™, Re-Entry Red™ and Gamma Green™. They combine to create the perfect color scheme for a retro-inspired Thanksgiving celebration!
3D Paper Mural Tutorial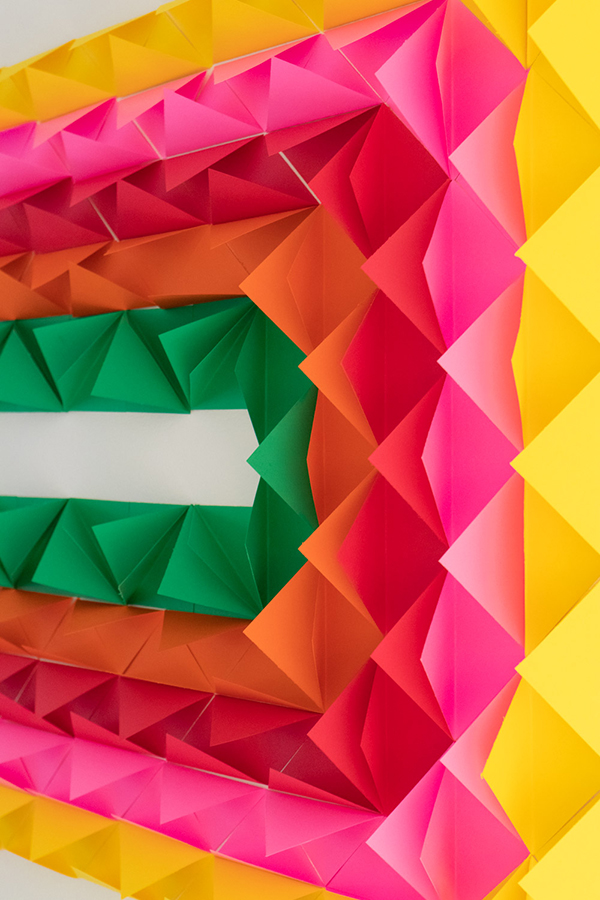 Supplies:
Step 1: Cut the long side of the cardstock to make an 8.5-inch square. Then cut into four equal sized 4.25-inch squares.
Step 2: Fold each piece in half from corner to corner. Repeat with A LOT of pieces from each color in the ASTROBRIGHTS "Vintage" Cardstock Assortment.
Step 3: Apply double sided tape to each individual piece and remove the backing. Starting with Gamma Green, create the curve shape out of the paper triangles. This should be in the approximate middle of the wall because you will add stripes of color at the top and bottom.
Step 4: For the green layer ONLY, you will make a thicker stripe. Make it go straight across the wall to your desired stopping point (ideally a corner). To see exactly how to make this pattern for the 3D paper mural, reference the photos above.
Step 5: Once the green layer is finished, follow the same curve with Cosmic Orange. Then repeat with the additional colors for the paper mural. Note that the triangles will have to turn perpendicular from the green ones in order to make the stripe (see photos).
Keep going as much as you want to make a mural in your desired size or style! Thanks to the simple triangles, you can try out a variety of patterns on your walls.
Pumpkin Treat Place Holders Tutorial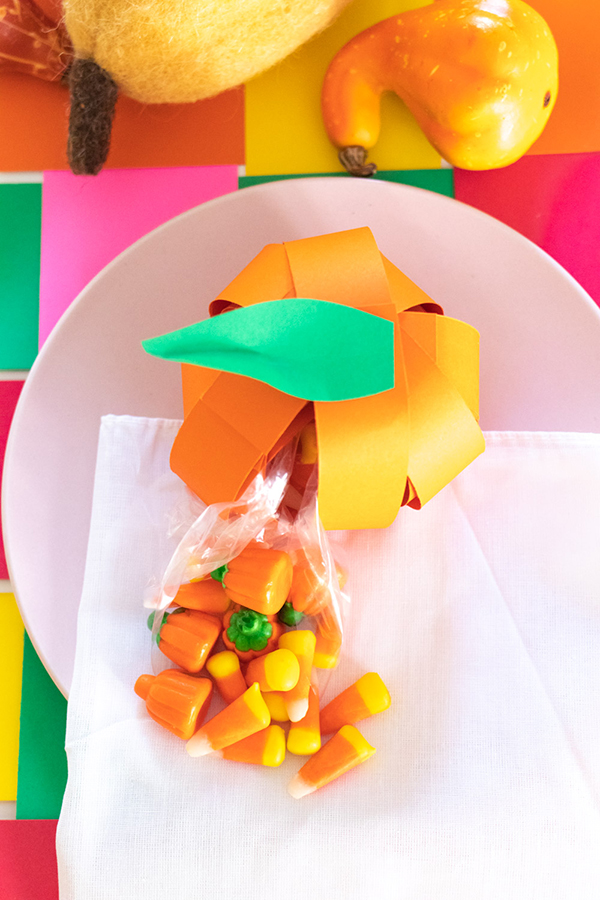 Supplies:
ASTROBRIGHTS Cosmic Orange Cardstock

ASTROBRIGHTS Gamma Green Cardstock

Paper trimmer

Glue stick

Plastic food bag

Scissors

String
Step 1: Cut the Cosmic Orange cardstock into 8 1x11-inch strips. Arrange a cross.
Step 2: Then glue the middles together. Glue each additional strip on top of each other at different angles to create a burst appearance.
Step 3: Fill a small plastic food bag with your favorite candy! Cut off the top Ziplock part of the bag and bundle it together to tie with string.
Step 4: Position the candy in the middle of the pumpkin treat place holder. Then bend the pieces in and glue opposite strips together until they create a pumpkin shape around the candy bag.
Step 5: Lastly, cut a simple leaf shape out of the green paper and glue it to the top. If desired, bend the tip slightly. If desired, add a name to the leaf to make an official place card for Thanksgiving dinner!
Woven Paper Table Runner Tutorial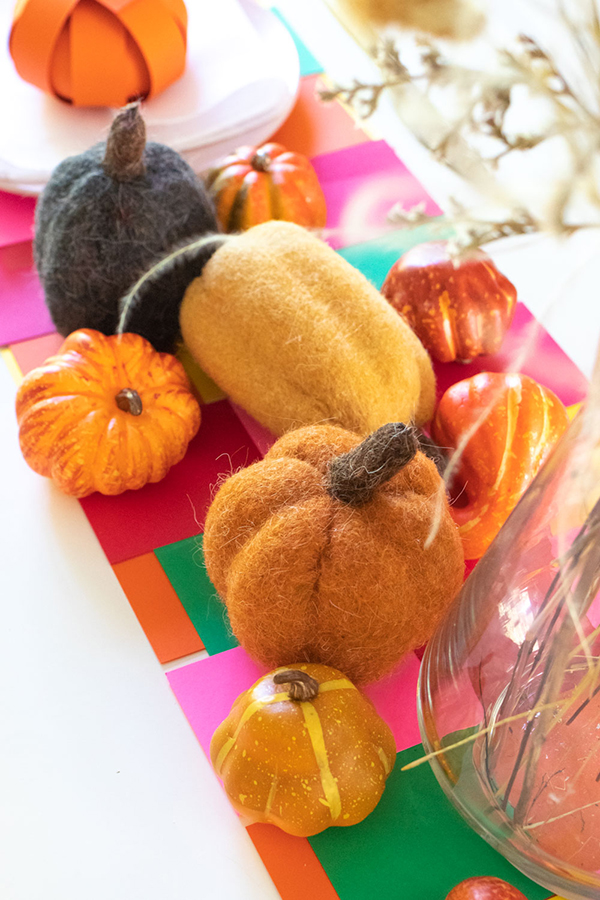 Supplies:
Note, you can use the leftover strips of paper from making the 3D paper mural to avoid wasting any paper!
Step 1: Use leftover strips of paper or cut your own in ANY size you want. Make sure they are uniform, and plan how to weave 6 strips together for the first section of the table runner.
Step 2: Leave slight gaps between each strip. You can either leave overhang on the edges or trim them away. As you make one square, glue it on top of the overlap from another to connect them into one long runner.
When you combine these three paper Thanksgiving décor elements, you have a vibrant Thanksgiving celebration that will make the holiday feel special. No matter how you're celebrating this year, have a safe and happy Thanksgiving!