Colorful Paper Fiesta Décor for Cinco de Mayo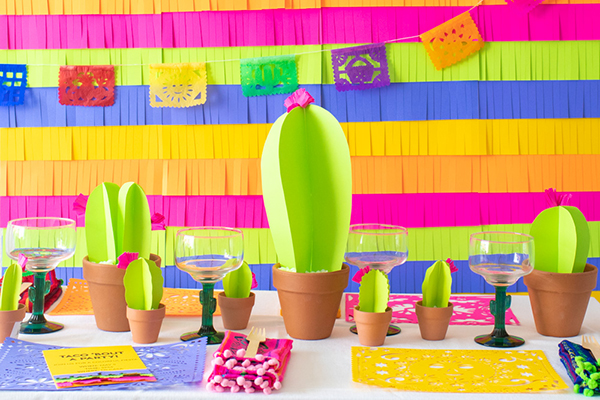 BY HOLLY WADE
Club Crafted
Cinco de Mayo is just around the corner! Although your celebrations may be a little different this year, you can still celebrate with your live-in friends and family or host a virtual fiesta with others. Enjoy your favorite snacks and drinks, and craft a colorful party with easy paper fiesta décor using ASTROBRIGHTS® Papers "Joyful" assortment! These vibrant shades are the perfect on-theme color combination to bring your celebration to life. Keep reading to see how to make your own extra-large fringe backdrop, simple fringe invitations, detailed papel picado placemats and a variety of potted paper cacti arrangements. You'd be amazed what you can make with ASTROBRIGHTS's vibrant colored papers!
In the "Joyful" Color Assortment, you'll find Cosmic Orange™, Solar Yellow™, Venus Violet™, Terra Green™ and Fireball Fuchsia™. If this doesn't feel like the color palette for you, try other ASTROBRIGHTS packs, like the "Sunny" Mega Collection, "Classic" Mega Collection or "Fluorescent" Mega Collection.
Fringe Invitations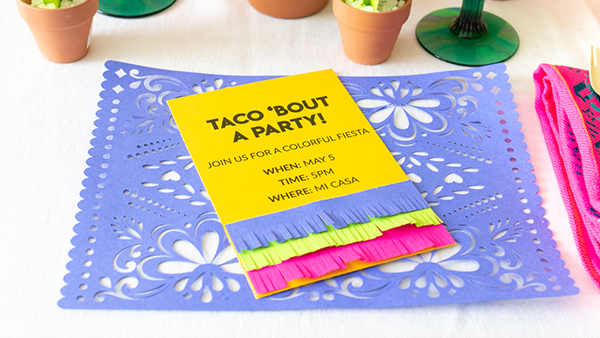 Supplies:
ASTROBRIGHTS Cardstock, "Joyful" Color Assortment
Paper trimmer
Scissors
Hot glue gun (or glue stick)
Step 1: Print out party details on colored cardstock with two invitations per page. Make sure there is a wide-open space at the bottom of the invitations. Trim to your desired size.
Step 2: Cut 1-inch strips of contrasting cardstock. Then trim them to the width of the invitations.
Step 3: Layer them on top of each other and cut fringe along the edge. Cut about halfway up the paper.
Step 4: Starting at the bottom, glue the fringe pieces to the invitations. Layer 3-4 pieces of fringe on the paper, overlapping slightly. Use your fingers to fan out the fringe for texture.
Papel Picado Placemats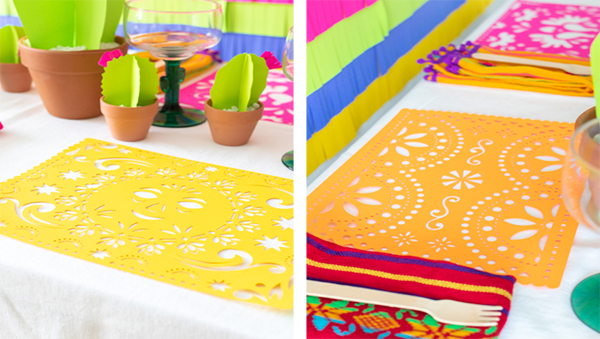 Supplies:
ASTROBRIGHTS Cardstock, "Joyful" Color Assortment
Cutting machine
Cutting mat
Papel Picado Placemat Templates
(SVG automatic download)
Step 1: Upload the above SVG template to your cutting machine software and adjust to just below 8.5 inches x 11 inches.
Step 2: Move to the cut screen and press the cardstock onto the sticky cutting mat. Load into the machine and press "cut."
Step 3: Once the cutting is finished, carefully remove the cardstock from the mat and repeat with all four designs in different colors. Careful, the patterns can be delicate!
Alternative: If you don't have a cutting machine, you can print the pattern onto the cardstock for a cool appearance! Then, if desired, you can use a craft knife to cut out the sections.
Potted Paper Cacti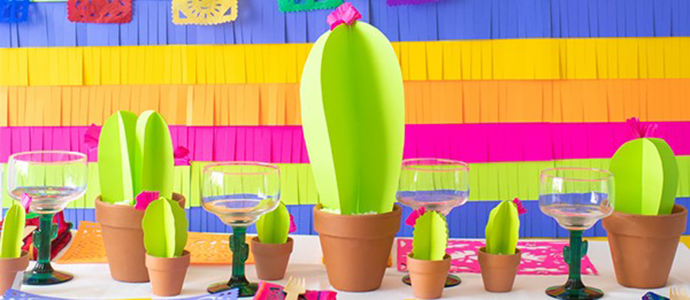 Supplies:
ASTROBRIGHTS Cardstock, Terra Green and Fireball Fuchsia
Scissors
Glue gun
Mini pots, various sizes
Mini rock filler
Step 1: Layer two pieces of green cardstock together for a large cactus. Fold a piece of cardstock in half for a small cactus. Cut a simple oval shape with a thin bottom and thicker top (or add a wavy or zig zag shape). Then separate the two pieces.
Step 2: On one piece, cut a slit from the bottom to the approximate middle. On the other, cut from the top to the middle.
Step 3: Place the cacti cut-outs upright so that the slits come together to make a 3D cactus. Trim if needed for the bottom to fit inside of a small pot.
Step 4: Then fill the pot with rocks for filler. They will also prevent your paper cacti from tipping over so easily.
Step 5: Cut a strip of pink paper (or other color!). Then cut in half and fringe the long edge. Fold it into itself and fan out the fringe before gluing to the top or sides of the cacti as flowers. Add multiple for larger cacti!
Paper Fringe Backdrop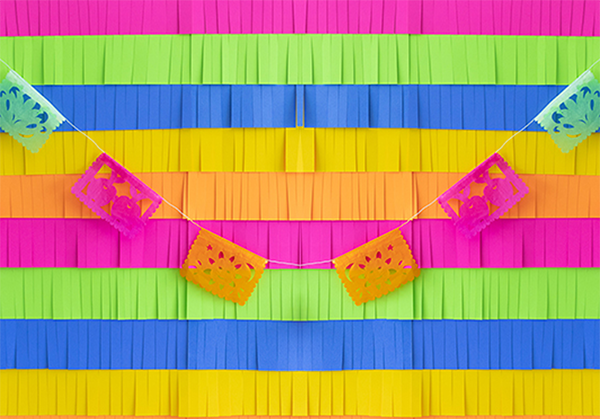 Supplies:
ASTROBRIGHTS Cardstock, "Joyful" Color Assortment
Paper trimmer
Scissors
Double-sided tape
Step 1: Cut a piece of cardstock down the middle so you have two pieces that are 4.25 inches x 11 inches.
Step 2: Layer the two pieces together and fringe across the long edge. Make sure the fringe extends about halfway up. Repeat with multiple colors and many more pieces!
Step 3: Once you have a stack of fringed paper, begin assembling the paper fringe backdrop. Tear off small pieces of double-sided tape to add to each end of the fringed paper (non-fringe edge). Remove the tape backing.
Step 4: Apply to your wall, repeating as far across the wall as you'd like. Then overlap a different color and repeat until the fringe backdrop is as high as you'd like.
Layer the various pieces together for the colorful paper fiesta décor to truly shine! Add your favorite food and your favorite people to celebrate Cinco de Mayo or any other day of the week!