Dino-Mite Party Ideas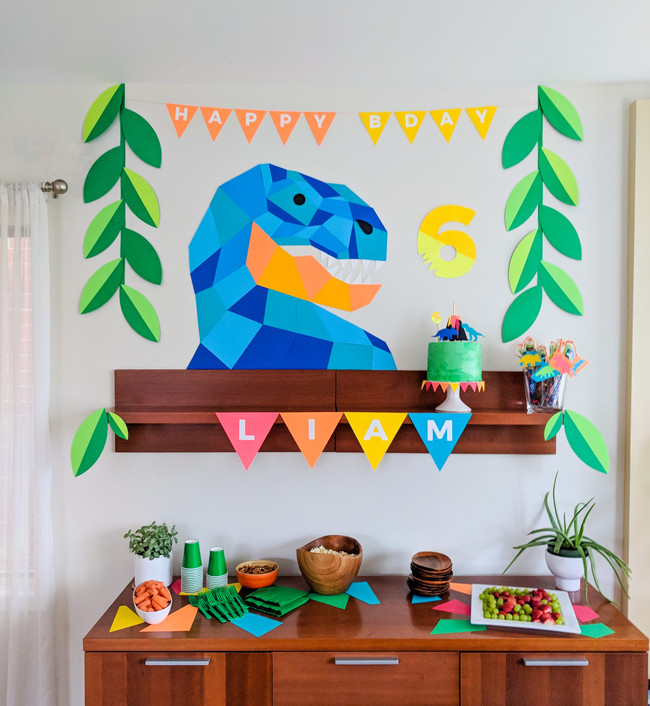 BY KATHY BEYMER
Merriment Design

We teamed up with our friend Kathy Beymer at Merriment Design for spirited geometric dinosaur birthday party ideas with free printable templates for you to recreate this dino party for your own little velociraptor.
I love throwing handmade birthdays parties with fun twists and celebratory colors. My 6-year-old wanted his pals to come over for a dinosaur-themed birthday party with dinosaur party decorations, dinosaur party games and a dinosaur cake. With that in mind, I put together fun and spirited paper dinosaur birthday party theme inspired by the trending geometric style and the sticker activity books that he loves so much. I worked with ASTROBRIGHTS to bring it all to life, including a large dinosaur wall decoration, geometric leafy vines, volcano stair risers, happy birthday bunting, party favor tags, and paper dino cake toppers.
Because I like colorful birthday parties, I decided to use lots of Astrobrights colors. You can use my suggestions below or choose your own color palette.
Materials:
Color Paper and Colored Cardstock
Craft knife, metal ruler and self-healing mat
Good paper scissors
Removable blue painter's tape
Glue stick
Hole punch
Baker's twine for hanging
Coffee stir sticks
Glue dots
Washi tape
Paper cutting machine (optional)
Free downloadable dinosaur party decor templates by Merriment Design include:
Large geometric dinosaur decor (34" x 34" T-Rex head)
Geometric leaves (small and large sizes)
Dinosaur "teeth" happy birthday bunting and name
Ages 0-9 templates with bite marks
Volcano stair risers with geometric lava
Dinosaur cake toppers
Dinosaur favor tags
Large T-Rex Geometric Dinosaur Party Decor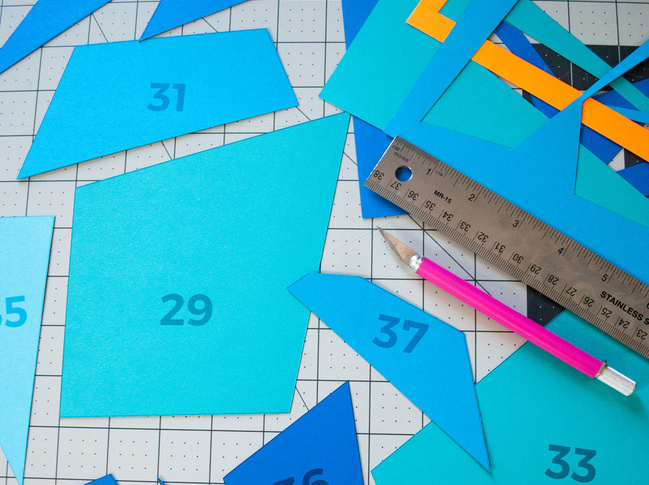 First, print the free template onto Astrobrights cardstock; the title on each page suggests the color to use. Be sure to print templates at 100% - do not "print to fit" or shrink the size to fit the paper. Cut out pieces using a craft knife, metal ruler and self-healing mat for perfectly straight edges, or you can use paper scissors. Each piece is numbered on the back; use my legend (on page 1 of the template) to tape pieces to the wall number-side down like a puzzle using removable blue painter's tape. Add the T-Rex's eye, nostril, and sharp teeth. The finished large geometric dinosaur birthday party decoration measures about 34" x 34".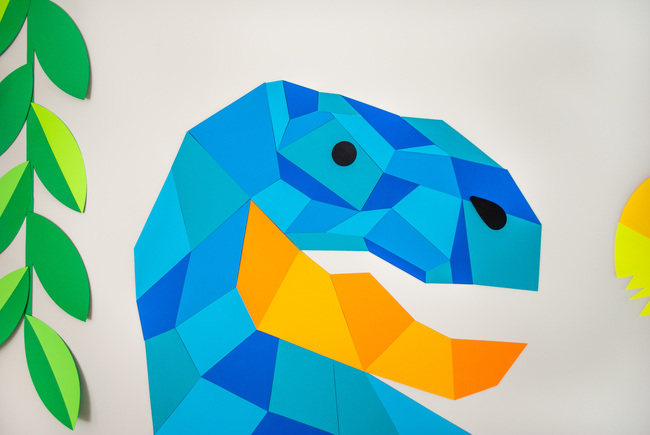 Geometric Leaves Party Decor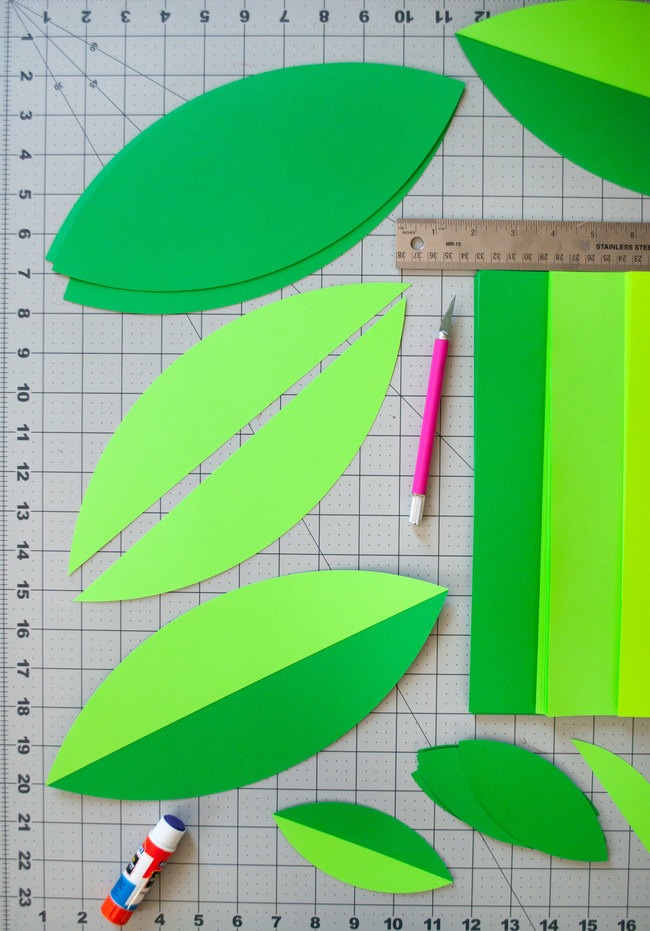 Decorate with lots of geometric paper leaves for a lush jungle effect! I designed simple geometric leaf-shape templates to coordinate with the large geometric dinosaur. Print the geometric leaves template onto Astrobrights cardstock paper. Be sure to print templates at 100% - do not "print to fit" or shrink the size to fit the paper. Cut some leaves in half, then glue one half onto one side of the leaf (repeat on the back side for two-sided garland). Attach to the wall using removable blue painter's tape, hang as garland using a hole punch and baker's twine, or attach to thin cut strips of card stock paper to make hanging vines.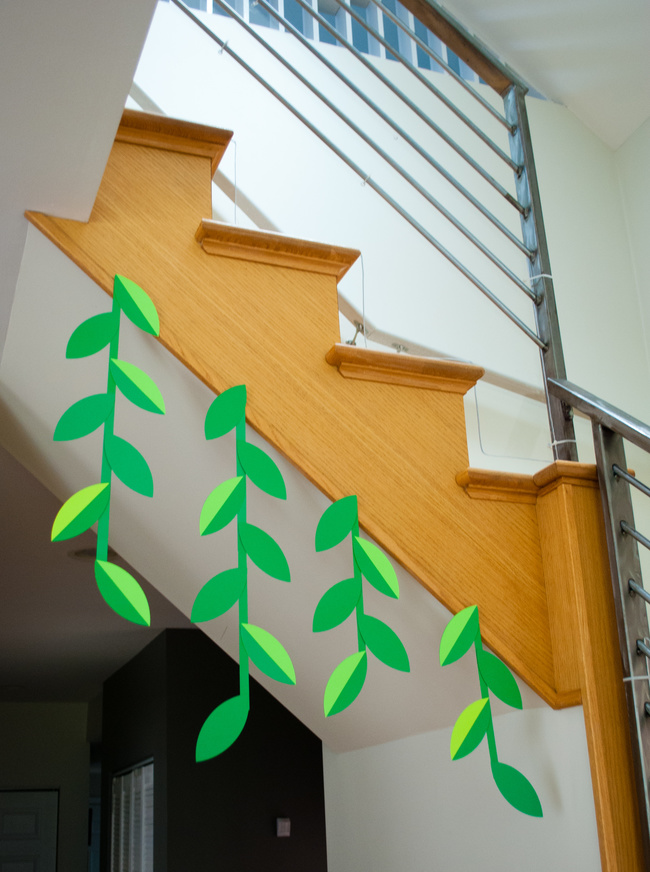 Dinosaur "Teeth" Birthday Banner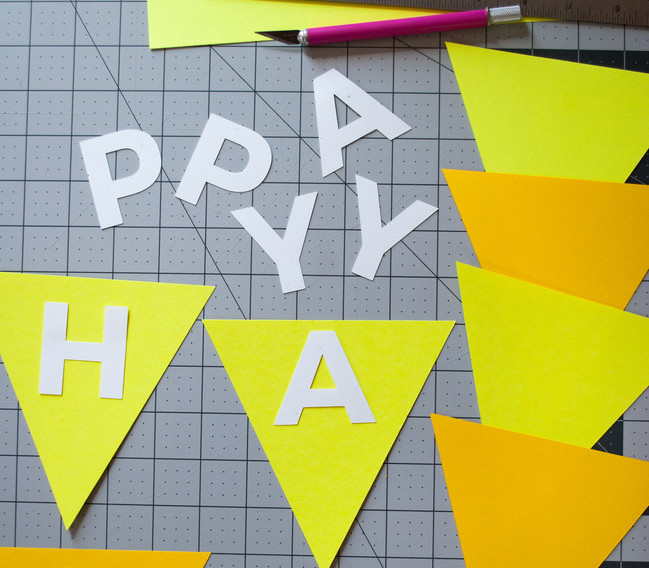 Make a teeth-shaped happy birthday banner with personalized name. There are two sizes: small and large. Print my free printable template onto Astrobrights card stock paper and cut out using a craft knife, metal ruler and self-healing mat, or good paper scissors. Be sure to print templates at 100% - do not "print to fit" or shrink the size to fit the paper. Print letters onto white card stock paper, cut out, and glue onto the teeth. Or you could also use the new Astrobrights sticker paper, now available at Walmart and Target. Punch holes in the corners and hang using baker's twine or removable blue painter's tape. Personalize with your own letters by typing into a word processing program and printing; my small letters were 2" tall and large letters were 3" tall.
Ages 0-9 Dino-Bite Template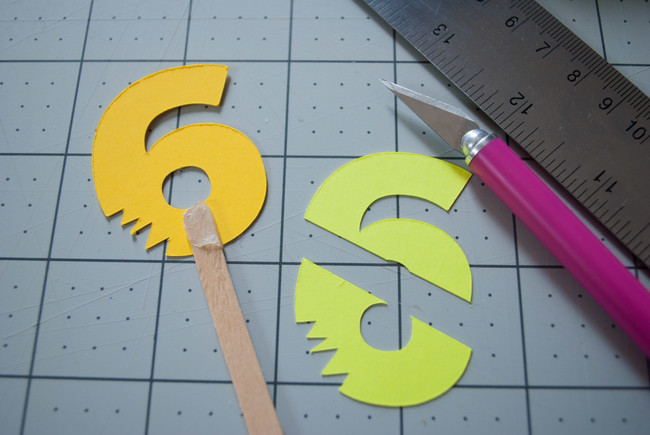 Print my ages template with your chosen age onto Astrobrights card stock paper. For other ages, draw the number about the same size as my printable template and cut out. Cut ½ of the number from Lift-Off Lemon™ and the other ½ from Solar Yellow™. Be sure to cut out bite marks too.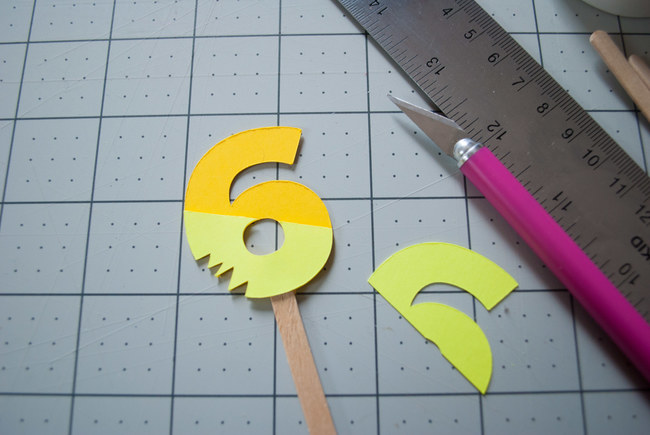 Volcanic Stairs with Geometric Lava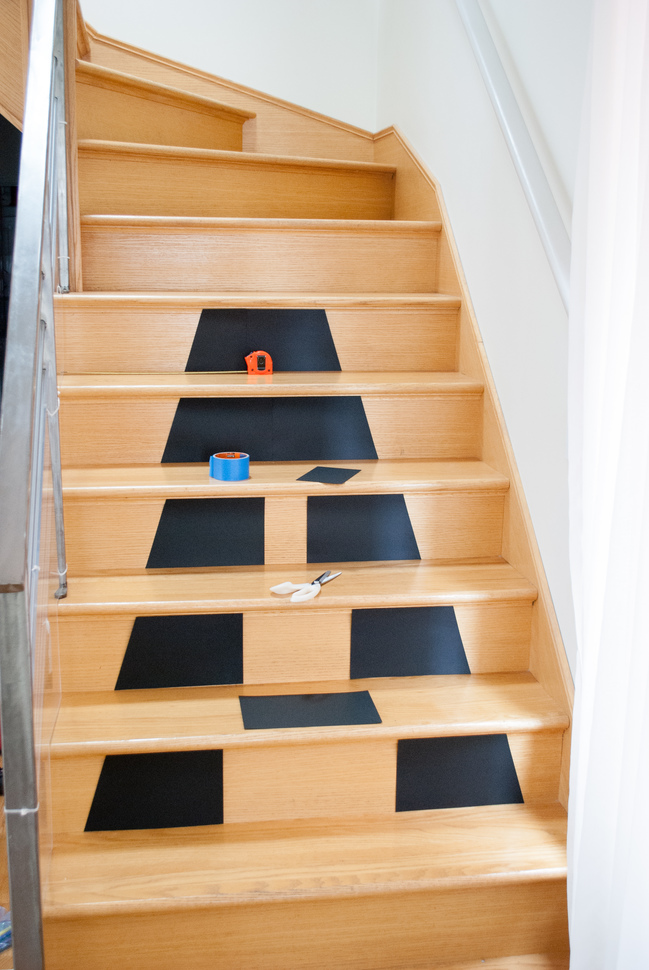 I love decorating our living room stair risers for parties because it's always a fun unexpected detail that surprises guests and makes them smile. I designed the volcano shape to fit onto seven of our 6" stair risers; you may need to adjust the template for your own stair height. Cut out 10 pieces of Eclipse Black™ paper using the printable volcano template (5 angles for the left side, 5 angles for the right). Be sure to print templates at 100% - do not "print to fit" or shrink the size to fit the paper. Tape angled paper onto stair risers using removable blue painter's tape. Fill in remaining middle spaces with strips of Eclipse Black™ paper. To add paper lava, print my lava template onto Re-Entry Red™, Rocket Red™, Cosmic Orange™ and Solar Yellow™. Cut out and add on top of the volcano. Add Gamma Green™ to the bottom stair riser as grass. Add polygons for the lava eruption from scrap paper.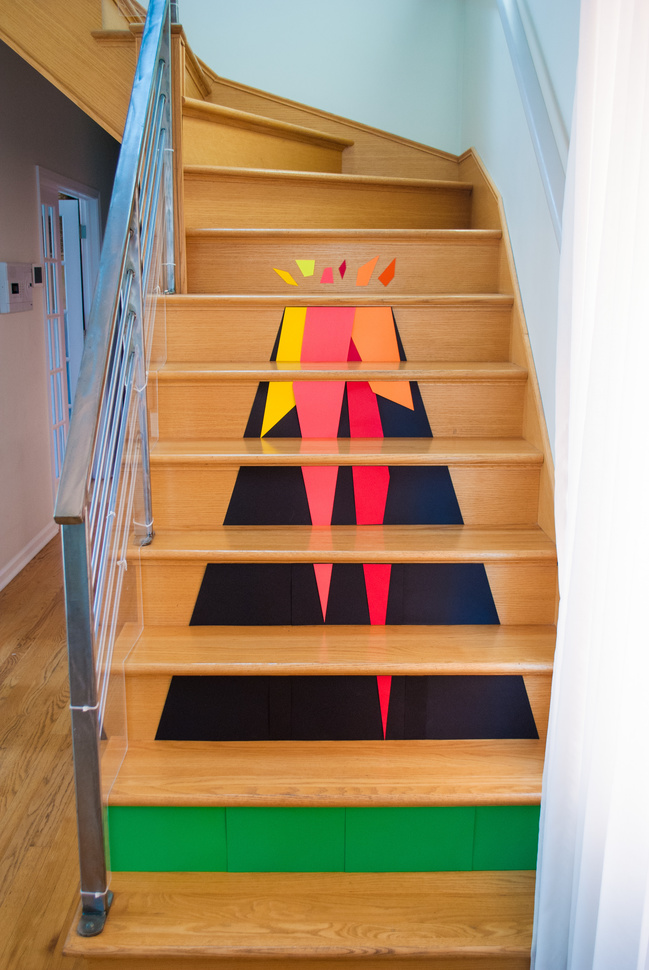 Volcano and Dinosaur Cake Toppers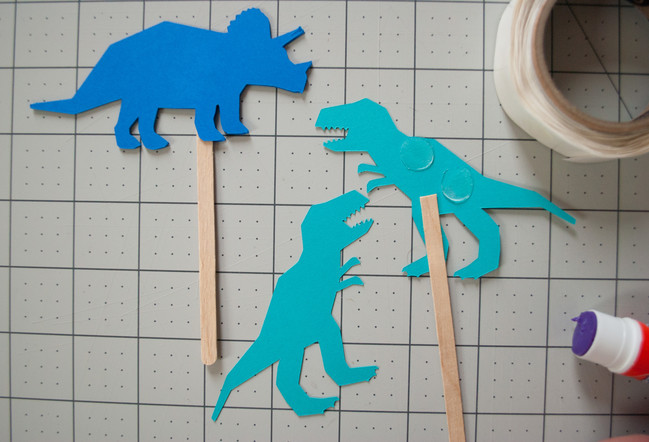 Paper cake toppers are an easy way to top both handmade and store bought cakes. Light one long thin candle in the middle of the volcano and make a wish! Print my dinosaur and volcano cake toppers template. Cut three volcanos, two ages, and two of each dinosaur. Cut one of the ages in half and discard the top half. Attach dinosaurs and age to wooden coffee stir sticks using glue dots. To create the volcano: glue stick lava onto the three volcano pieces and let dry. Attach the three volcano pieces together using washi tape on the back seams. Tape coffee stir sticks to the middle back of each volcano. Fold the volcano pieces together to form a pyramid and secure using washi tape. Stick toppers into the cake and place one long thin candle in the center of the volcano. Add dinosaur teeth-shaped paper around the cake stand edge using paper scraps and washi tape.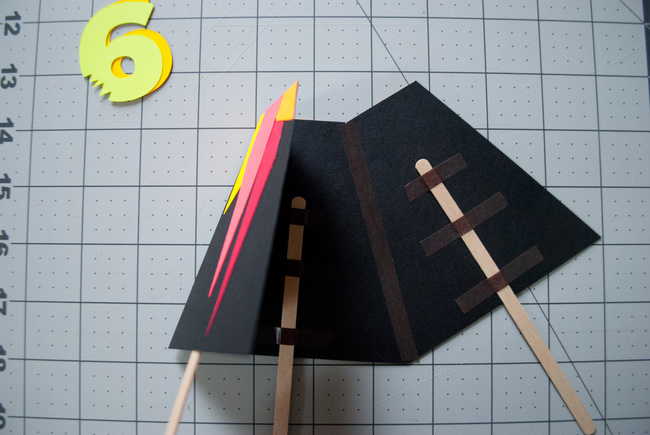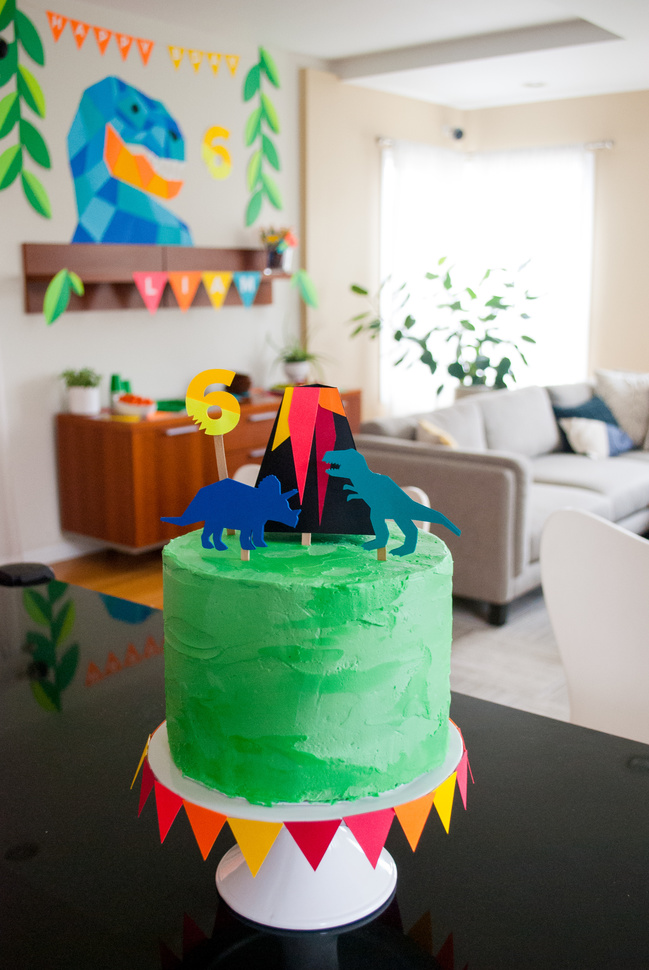 Dino-Mite Favor Tags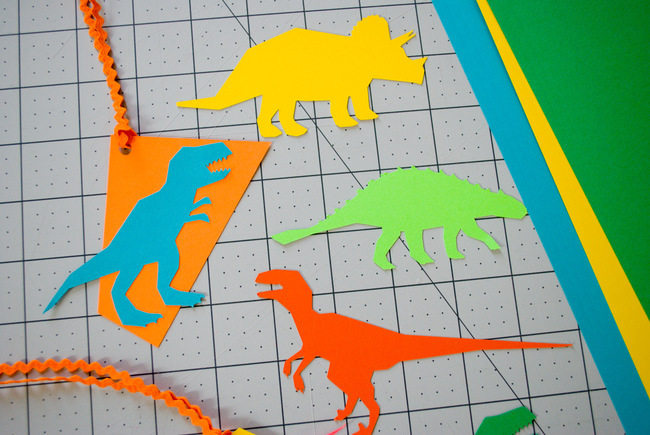 I like to use up my paper scraps so I designed geometric dinosaurs to tie onto our dinosaur party favors. Download my free geometric dinosaur template and print onto cardstock paper. You can cut these out using good paper scissors, or you can use a paper cutting machine if you have one. Or alternatively, just print the dinosaurs onto card stock and cut a polygon shape around each one to create monochromatic favor tags.
Using paper scraps, cut out random polygon shapes. Glue dinosaurs on top using a glue stick, leaving a little bit of each dinosaur falling off of the polygon to imply movement. Punch a hole in the top and tie onto favors using ribbon. Display favors in a large vase.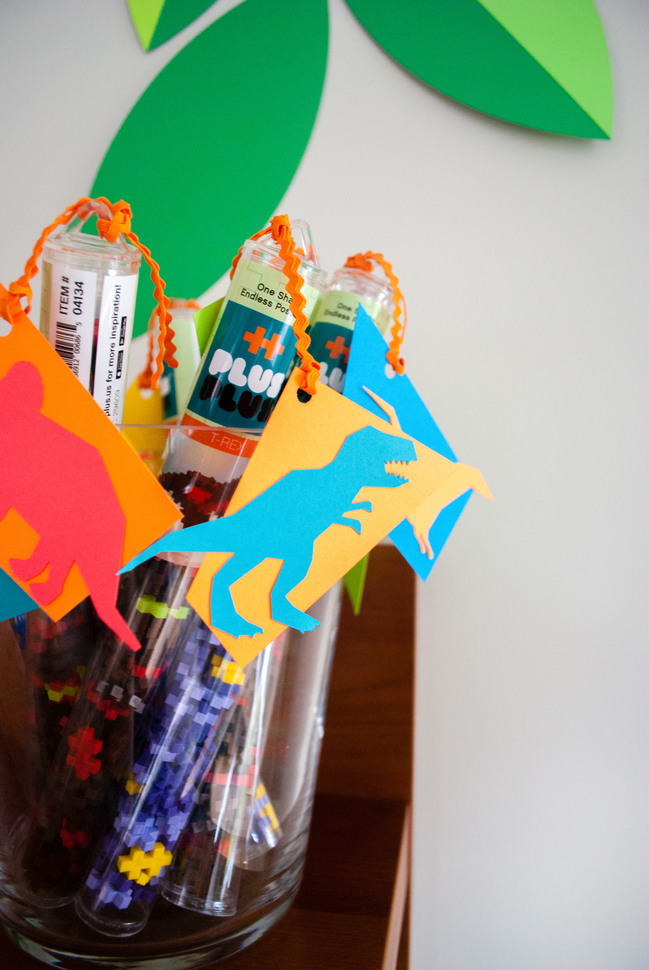 Kids of all ages will love the bright colors and dinosaur themed party decor. Host your very own party for a roaring good time!