Cicadas Surprise Summer Craft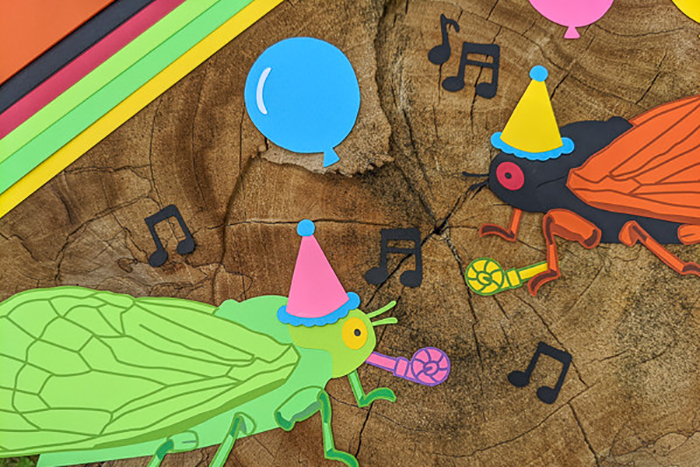 BY KATHY BEYMER
Merriment Design

Start off summer with my cute cicadas craft activity for kids!
This easy print, cut, and glue activity is great for elementary age and preschoolers. Kids can choose to make cicadas in their choice of Astrobrights colors, then play pretend with their cicada friends or glue them onto paper to make wall art. And they can look up some fun facts about these incredible insects.
I find that people tend to fall into two general cicada camps: one camp thinks they're ugly and the other camp (like me) thinks they're pretty cool. I mean sure, cicadas aren't traditionally cute but not every insect can be like a ladybug, right?
We decided to make bright green, freshly-molted annual cicadas and periodical Brood X black and orange cicadas with Rocket Red™ eyes. I picture these little folks living a dark, 17-year life underground and then emerging ready to par-tay! So I thought it would be cute to make them some party hats, party blowers, and balloons to celebrate their arrival. You can decorate party hats with paper scraps or markers and even choose to create your own paper dress-up clothes and accessories. I love hearing cicadas singing so I made them some musical notes, too.
This easy paper summer craft activity for kids takes just a few craft supplies. Grab the kids and make my cheerful cicadas using Astrobrights Paper.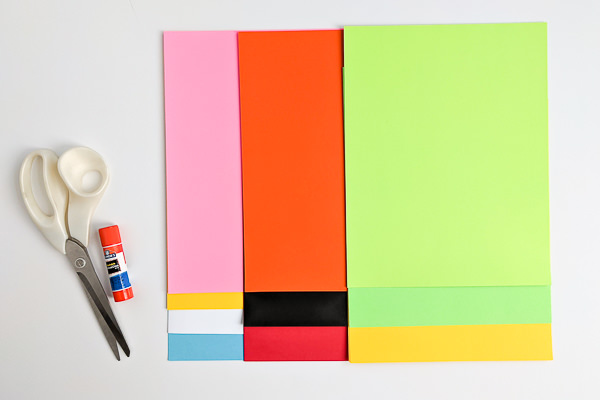 Supplies
Astrobrights cardstock paper in

Rocket Red™, Orbit Orange™, Eclipse Black™, Martian Green™, Vulcan Green™

and Sunburst Yellow™ plus optional Lunar Blue™, Pulsar Pink™, Stardust White™ and Sunburst Yellow™ for party hats, blowers, and balloons

Paper scissors

Glue stick or school glue

Optional craft knife and self-healing cutting mat for musical notes details
Step 1: Print my cicada templates onto Astrobrights cardstock paper: 17-year cicadas on Eclipse Black™, Orbit Orange™ and Rocket Red™ and annual cicadas on Martian Green™, Vulcan Green™ and Sunburst Yellow™.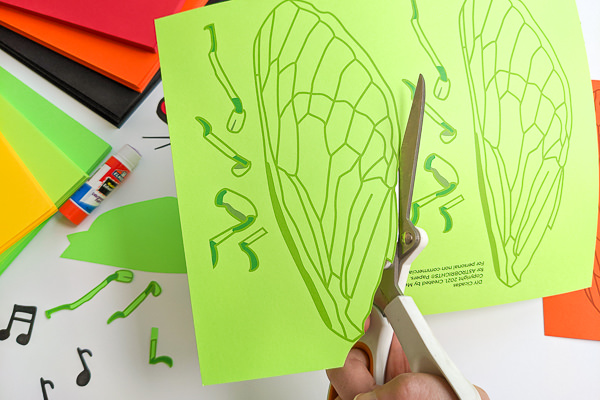 Step 2: Cut out cicada pieces: head, thorax/abdomen, veined wings, jointed legs, and compound eyes. Each template includes one left-facing and one right-facing cicada. Cut two thin slivers from scrap paper for antennae.
Step 3: Glue cicada pieces together using a glue stick or school glue.
Step 4: Cut out optional party supplies: hats, party blowers, balloons and musical notes. Use a craft knife and self-healing mat for small details.
Step 5: Glue hats pieces together.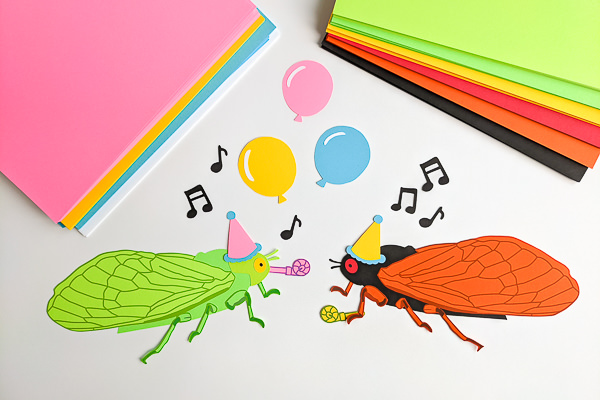 Step 6: Play dress-up with your cicadas, hang them on the wall as artwork, or use them to learn about the parts of a cicada.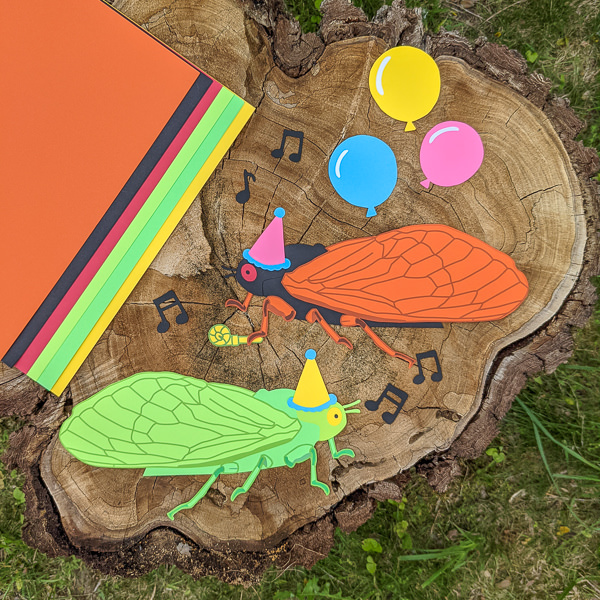 I hope that you enjoy making my cute cicadas craft this summer!
Kathy