DIY

Joke

Valentine's Day Cards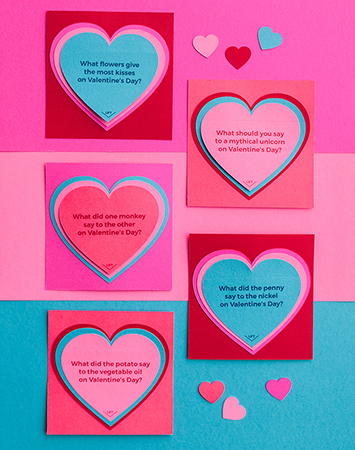 BY KATHY BEYMER
Merriment Design

Get ready for your school's Valentine's Day party with these clever and cute DIY Joke Valentines using ASTROBRIGHTS® Papers!
My 6-year-old son got a joke book for Christmas and he's loved telling us silly jokes. I thought it would be fun to make DIY Joke Valentines for him to pass out to his classroom friends at school because joke valentines are fun and friendly without being too romantic. We gathered up a bunch of heart-themed jokes and even made up some of our own using punch lines from other jokes.
"What did peanut butter say to jelly on Valentine's Day?" "What do you call two birds in love?" "What did the potato say to the cooking oil on Valentine's Day?" "What did one shark say to the other on Valentine's Day?"
Wanna know the answers? Flip up the top heart to reveal the punchlines.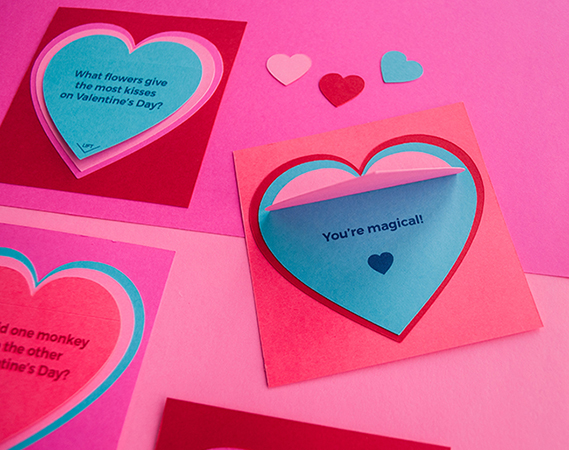 I love the spirit and silliness of these Joke Valentines. They're playful, vibrant and easy to make for classroom friends and teachers. Download my templates below to make your own DIY Joke Valentine's Day Cards.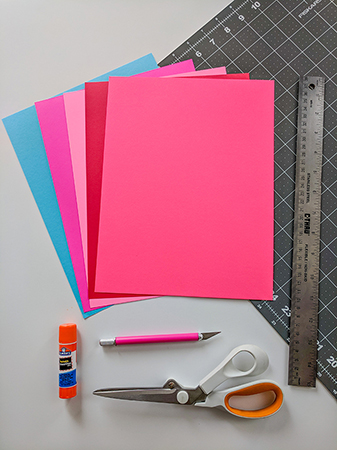 Supplies for making DIY Joke Valentines for kids:
ASTROBRIGHTS® Papers or Cardstock in four colors (or more)

Good paper scissors

Glue stick or other paper adhesive

Craft knife (or butter knife), metal ruler and self-healing mat

Optional heart-shaped hole punch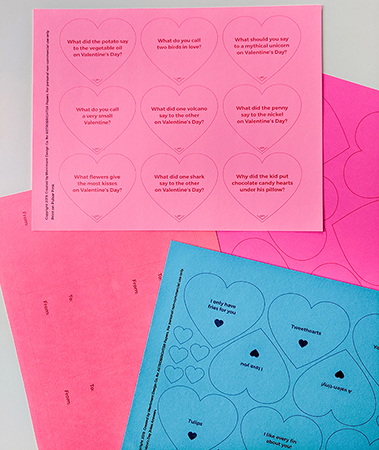 Step 1: Choose your colors and gather supplies.
Ooh, so many choices! My son and I chose Fireball Fuchsia™, Pulsar Pink™, Plasma Pink™, Celestial Blue® and Re-Entry Red™ and it reminds me of my Valentine's Day Sugar Cookies color palette. Color-wise I also think that Cosmic Orange™ or Galaxy Gold™ would also look great as an accent color.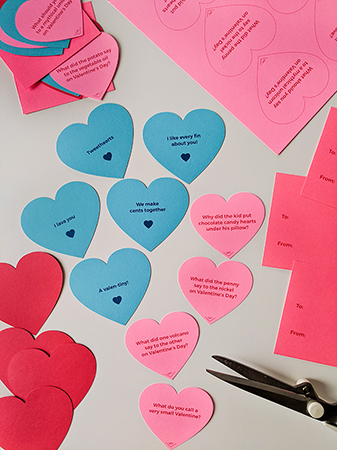 Step 2: Print and cut out pieces.
Print the templates onto ASTROBRIGHTS® Papers, printing red text onto Pulsar Pink™ and Plasma Pink™ and blue text onto Celestial Blue®. Cut each of them out using your best pair of paper-cutting scissors.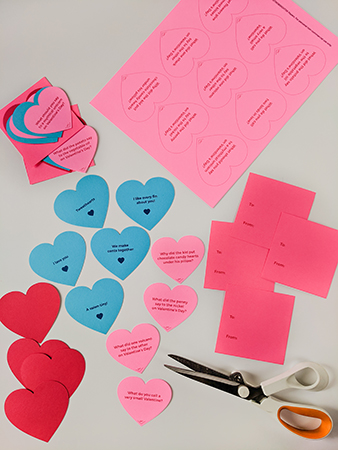 There are four templates to print and cut:
Squares for the Valentine backs (with To and From)

Answer hearts - (2 sets)

Question hearts - (2 sets)

Contrast color hearts - optional but looks cute

Heart-shaped craft punch - optional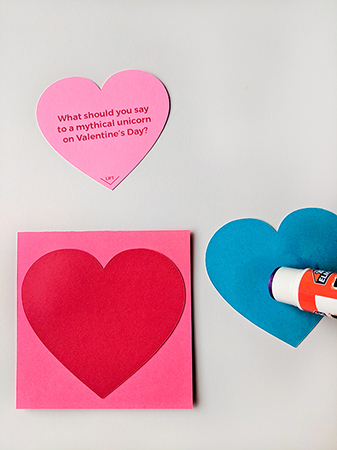 Step 3: Glue contrast color hearts onto rectangle and let dry.
Place squares with the To/From facing down on the table. Glue contrast hearts onto the blank side of the rectangle.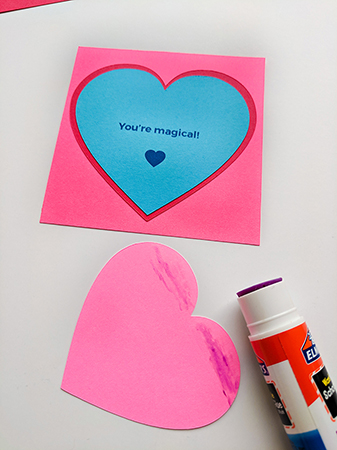 Step 4: Glue answers onto the contrast color hearts.
Place the heart-shaped answers in the center of the contrast hearts and let dry.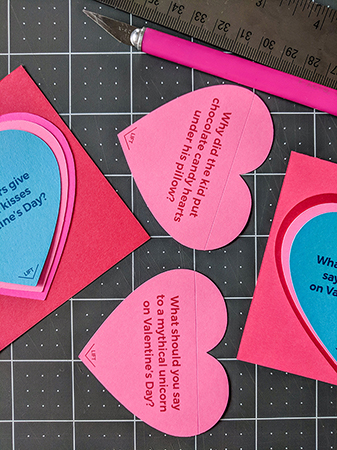 Step 5: Score the question hearts using the back of a craft knife.
Scoring is the best way to ensure a clean fold. Lay a metal ruler onto the heart-shaped question. Run the *back edge* of a craft knife along the ruler to make a slight dent into the paper. Be sure not to use the front edge or else you'll cut your heart in half. Don't have a craft knife? Use a butter knife from your kitchen.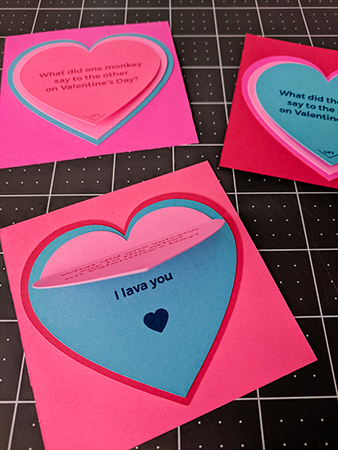 Step 6: Glue the top part of the heart-shaped question onto the answer.
Glue just the top scored portion of the question hearts to the answer heart. This secures the top of the heart and allow the recipient to fold up the joke's question to see its answer.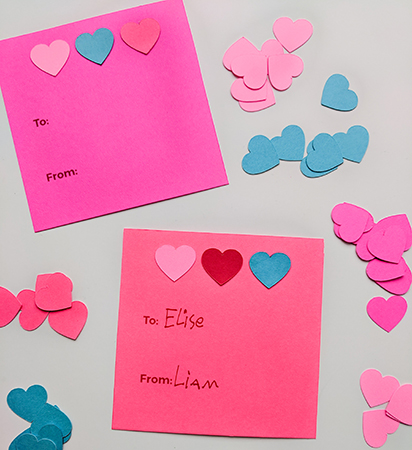 Step 7: Write names on the backs and add hearts.
Writing names is good handwriting practice. Alternatively, you can cut 3.5" x 3.5" blank squares for the backs. Cut tiny hearts from the paper scraps using good scissors or a small heart-shaped craft punch and glue onto backs to add some more love.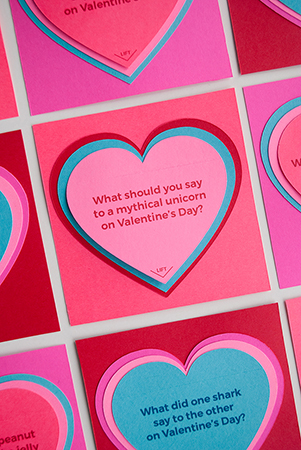 Step 8: Give to friends and loved ones!
I hope you enjoy these bright and cheerful DIY Joke Valentines for kids. I think they'd also make great lunchbox notes to count down to Valentine's Day; just put one into your child's lunchbox each day from February 1 - 14. Now what do you call a very small Valentine? A valen-tiny!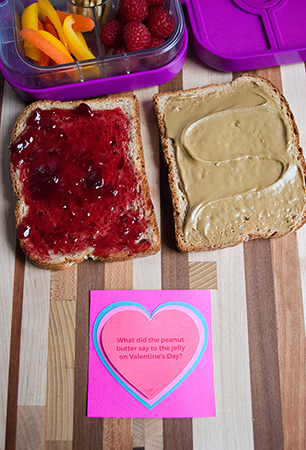 Colors Used: