Far-Out DIY Solar System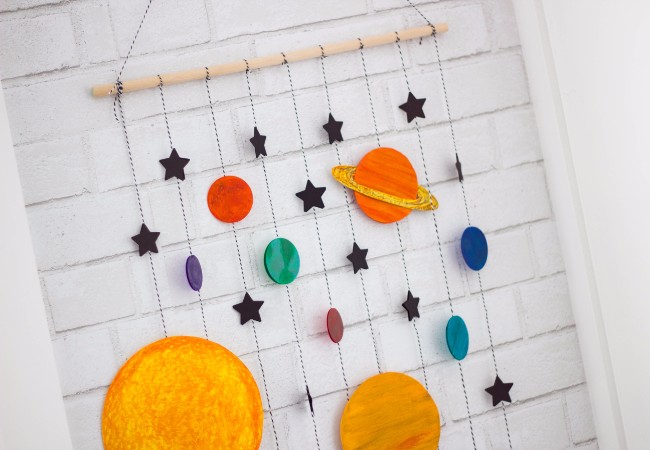 Space, with its endless supply of stars, constellations, planets, moons, and galaxies, is a treasure trove of inspiration and possibilities. Fans of the sheer awesomeness of the universe will love this project, which brings the solar system into your home or classroom.
Color-Drenched Solar System
Now you can carry the solar system wherever you go with this astronomically bright mobile solar system. It's a wonderful addition to any home and can bring themes such as Stars Wars, Star Trek, and Ready Jet Go! to life. If your youngster is obsessed with all things space, this is an easy way to add space-themed elements around the home or classroom.
We teamed up with our friend at
Honeybear Lane
, for an epic space themed decor piece that will brighten any day.
Here's what you'll need to get started:
Circle shaped paper punch in 1 1 /2″ and 2″ (optional)

Star shaped paper punch

Black and white baker's twine, yarn, or whatever you'd like

1/4″-1/2″ wooden dowel

Color Paper or Color Cardstock

Glue dots
First, cut/punch out your circles for your far-out sun and planets. You'll need 9 circles total for the Sun, Mercury, Venus, Earth, Mars, Jupiter, Saturn, Uranus and Neptune. You could always add Pluto, if you still consider it one of our solar system's planets! No judgment here.
You're almost done! Check out the rest of this project to create a far-out solar system.
Colors Used: