Oh So Pretty! Ombre Paper Chain Wall Art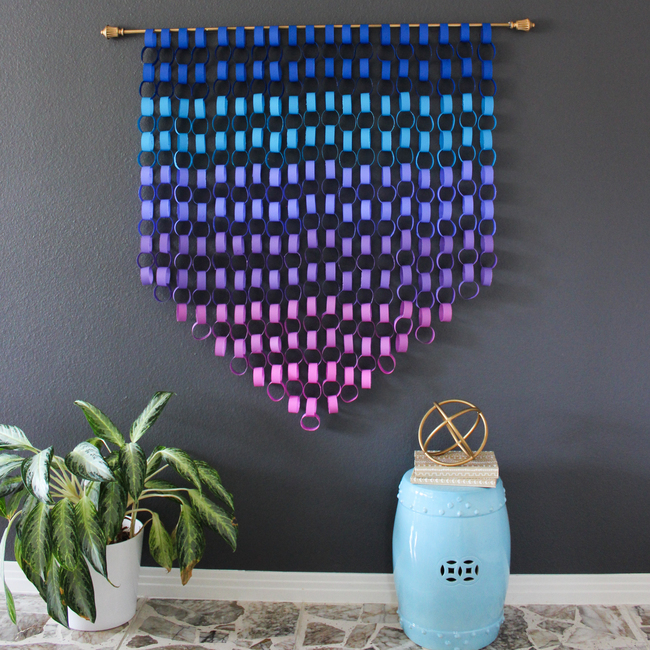 BY HAELEY GIAMBALVO
Design Improvised

My most favorite crafts are simple projects that make a big impact. This modern ombre wall art is exactly that type of project! I love taking simple and inexpensive materials like ASTROBRIGHTS® Papers and turning them into beautiful one-of-a-kind decor for my home. If you know how to make a paper chain, you can make this wall art!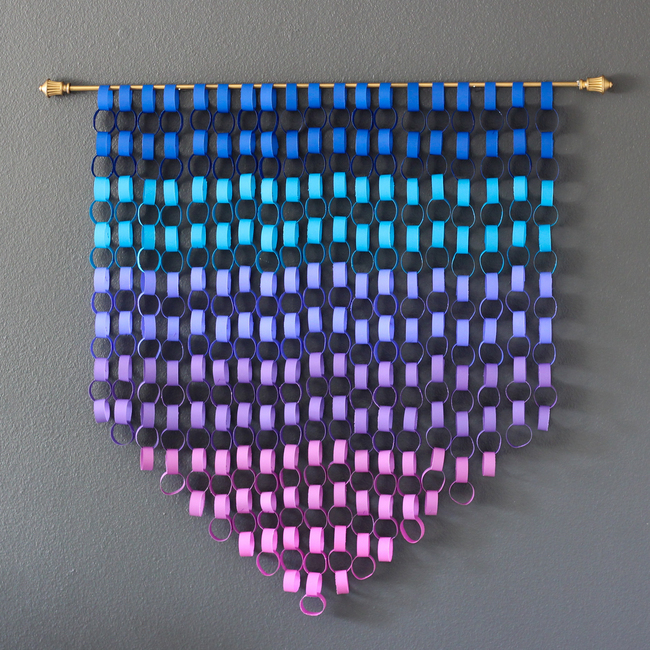 Paper chains are a classic kids craft but lately have made a comeback in adult crafting in the form of these large-scale wall hangings. They are a great way to add a big pop of texture and color to an empty wall! I wanted to try making my own version by using six different shades of blue and purple Astrobrights papers to create a pretty ombre effect.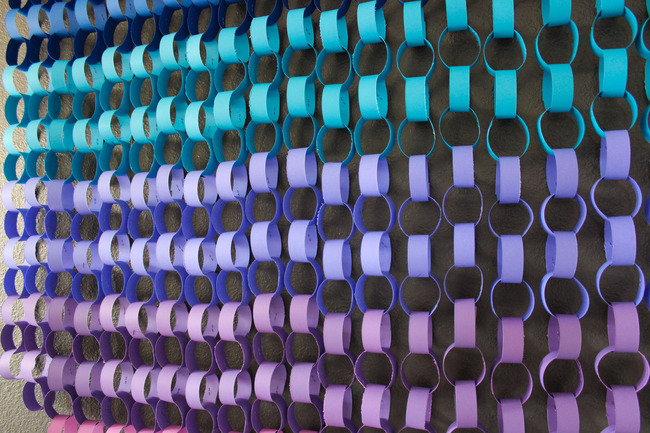 The fun part about the project is that you can customize the colors however you liked to match your decor. You can even play around with the design by using different color patterns, and the size by using different lengths and numbers of chains.
How to make a paper chain wall hanging:
Colored Cardstock
Handheld Stapler
Scissors
Curtain Rod or Long Dowel
1. Start by making 1" by 8" strips of cardstock. A paper cutter or fringe tool like the one I used will be your best friend for this project! They make it simple quickly cut uniform strips of paper. Line up a sheet of cardstock at the 1" guides and then cut, working your way across the sheet. You can cut 10 strips per sheet of cardstock.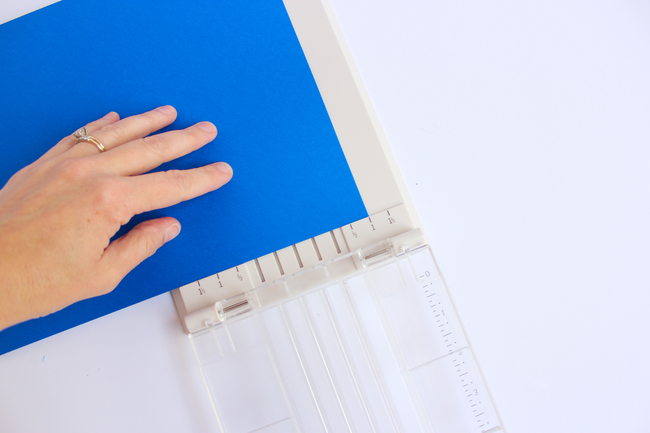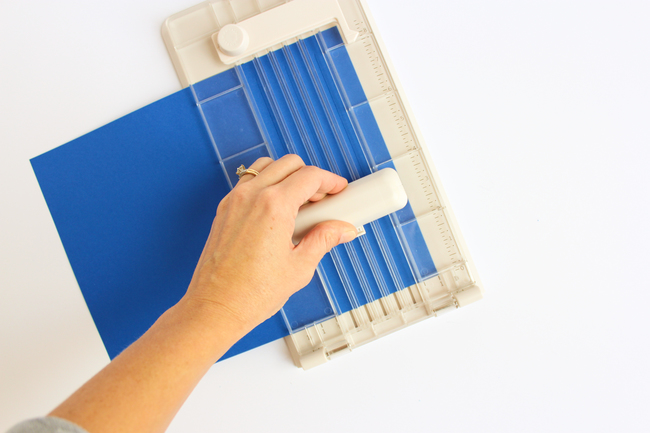 2. Use a pair of scissors to cut the strips from the sheet of paper.
3. Continue making enough strips for each color. For this wall hanging you will need 80 strips of each color (about 8 pages of cardstock for each color). You will have a few strips left over for some of the colors.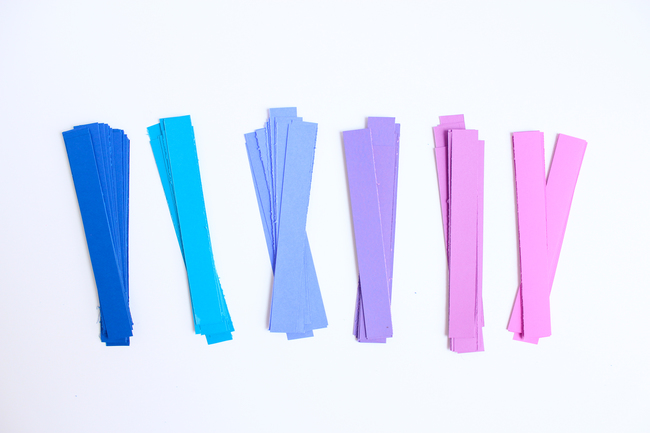 4. Starting with the first color, make a loop and staple it together. A small hand-held stapler works great for making the loops!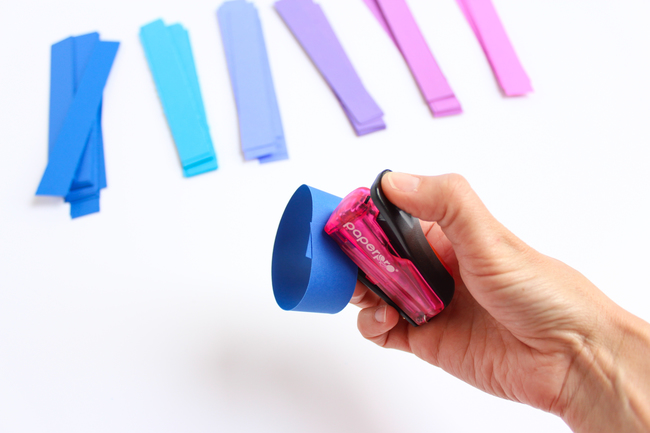 5. Add a second strip of cardstock through the loop and staple. You are making a chain!
Continue adding four loops of each of the six colors. This will form the middle (and longest) chain of your wall hanging.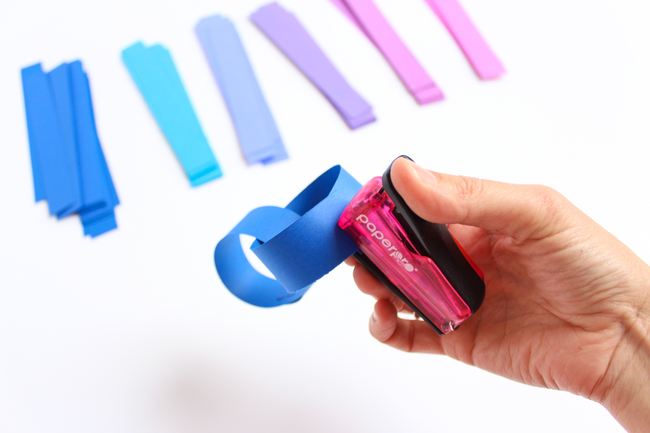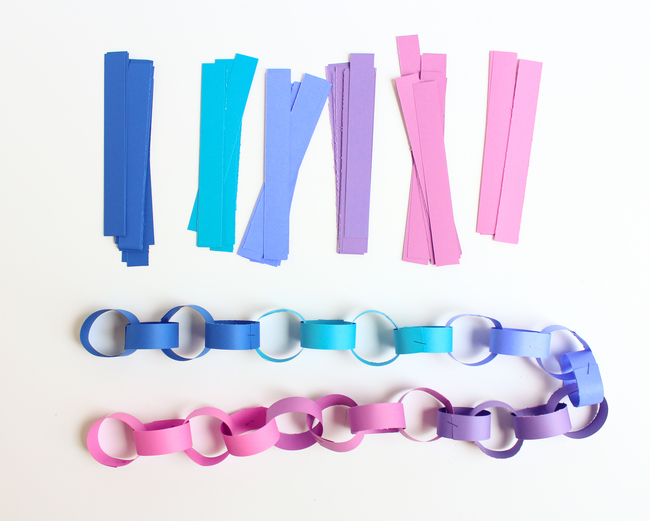 6. Repeat the process to create two additional chains, but use one less ring at the bottom. These will be the chains on each side of the middle chain. Repeat to make two additional chains, but use two fewer chains this time. Continue this process until you have created 19 chains.
7. Slide the chains onto a curtain rod or long dowel. The rod I used was about 4' long. Hang on the wall. Arrange the loops so that stapes are facing the backside of the wall hanging.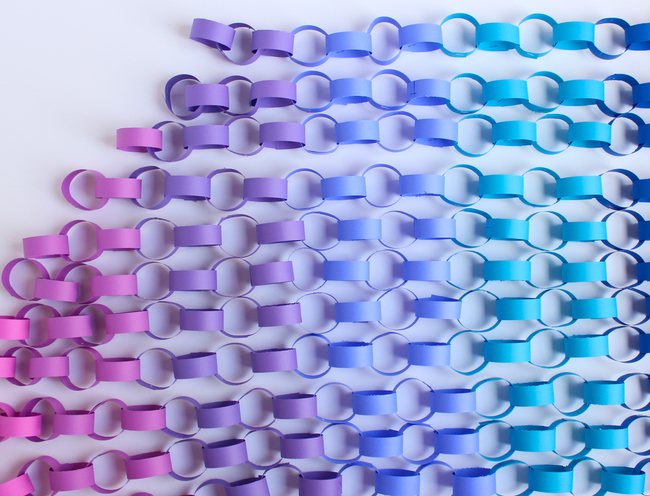 This is the perfect TV-watching craft and takes about 3 hours from start to finish. If you have kids at home, this is a fun project to get them involved in! I love how the pretty purple and blue shades look against the dark blue wall in our living room.