Silly Swimmers Wooden Spoon Summer Craft

BY KATHY BEYMER
Merriment Design

Take a last dip of summer with my silly swimmers wooden spoon craft for kids!
Gather some disposable spoons. I used 6" wooden ice cream spoons; plastic spoons would work well, too. Print my templates onto your favorite Astrobrights colors, then cut out my paper bathing suits, faces, sunglasses, swimming caps, and sunhats.
Add colorful towels and some cute pool floaties and your silly spoon swimmers are ready for a fun day at the pool!
Astrobrights asked me to create a summer craft that showcases the Astrobrights Tropical cardstock pack with some splashes of the Astrobrights Sprinkle pack. Mixing these two color palettes works really well together, and I'll mix them again in the future. I love the colors in this craft.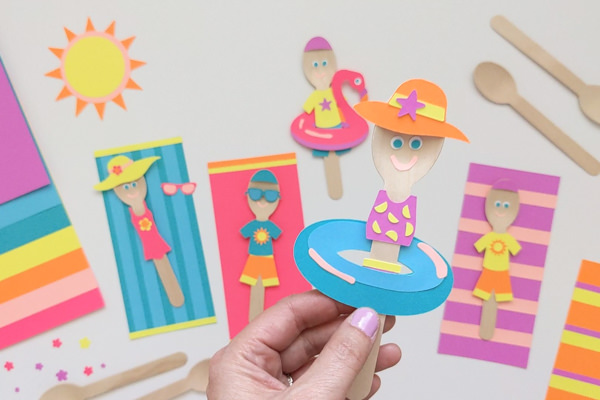 My easy kids' craft works well as a summer activity or a back-to-school school craft idea. Teachers, have your students make their own swimmer as a get-to-know-you activity.
Be sure to see more of my simple and clever paper projects at Astrobrights.com. Have a splashing good time making my silly swimmers spoon craft!
I designed this paper seashell craft for all ages. Elementary age kids can cut, fold, and glue 3D shells with simple scenes inside. Tweens and teens can create more involved scenes that turn their 3D shells into objects of art.
Teachers, just staple the back of the shells to your bulletin boards to create interactive classroom decor that students can open up and see messages and treasures inside.
Make my beach-inspired, artsy paper craft idea this summer!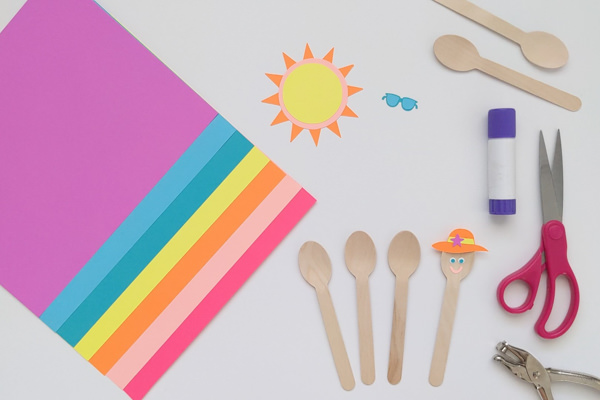 ++++
Supplies:
Astrobrights Tropical Cardstock paper in

Outrageous Orchid™, Terrestrial Teal™, Lift-Off Lemon™, Cosmic Orange™, and Plasma Pink™

Astrobrights Sprinkle Paper - I used Bubble Gum and Lunar Blue™

Astrobrights Bright White Cardstock - for eyes

6" long wooden disposable spoons or plastic spoons

¼" and ⅛" hole punches for eyes (or just use markers)

Glue stick
Scissors (optional: craft knife and self-healing cutting mat or paper cutting machine)
How to make Silly Spoon Swimmers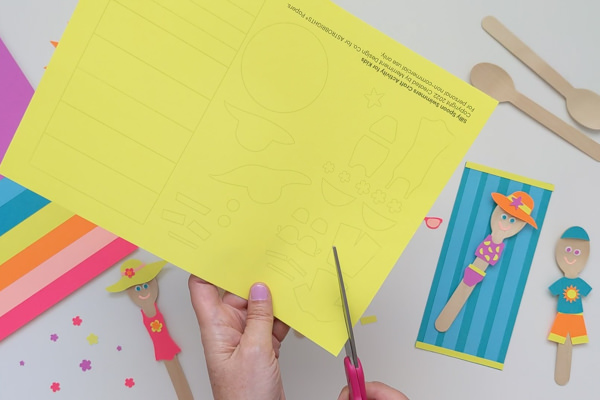 Step 1: Download my printable silly spoon swimmers templates (PDF). Print the templates onto Astrobrights Tropical cardstock and Astrobrights Sprinkle paper. Print all templates full-size (do not scale nor print to fit).
Step 2: Cut out the swimsuits, pool hats, swim caps, pool floaties, sunglasses, and towels. I recommend using a craft knife to cut out the center of the pool floaties, but you can use scissors in a pinch.
Step 3: Glue the swimsuit pieces, swim caps, and floppy hats onto your spoons using a glue stick. Glue sunglasses pieces together and set them aside.
Step 4: Using hole punches, create eyes by punching ¼" circles from Bright White and ⅛" circles from Terrestrial Teal™ and Outrageous Orchid™. Glue eyes and smiles onto your spoons. Alternatively, you can use colored pencils or markers to draw faces onto your swimmers.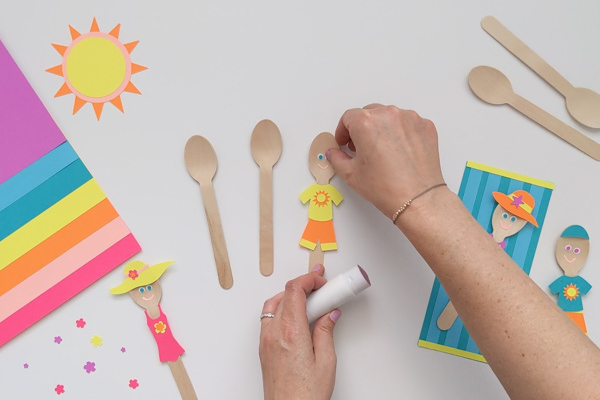 Step 5: Add pool floaties by gluing their pieces together. Let dry completely, then slip the floatie onto your swimmer by slipping it over the 'feet' end of the spoon.
Step 6: Create bright, colorful pool towels by gluing pieces together. Let dry.
Step 7: Play a pretend pool day with your silly swimmers!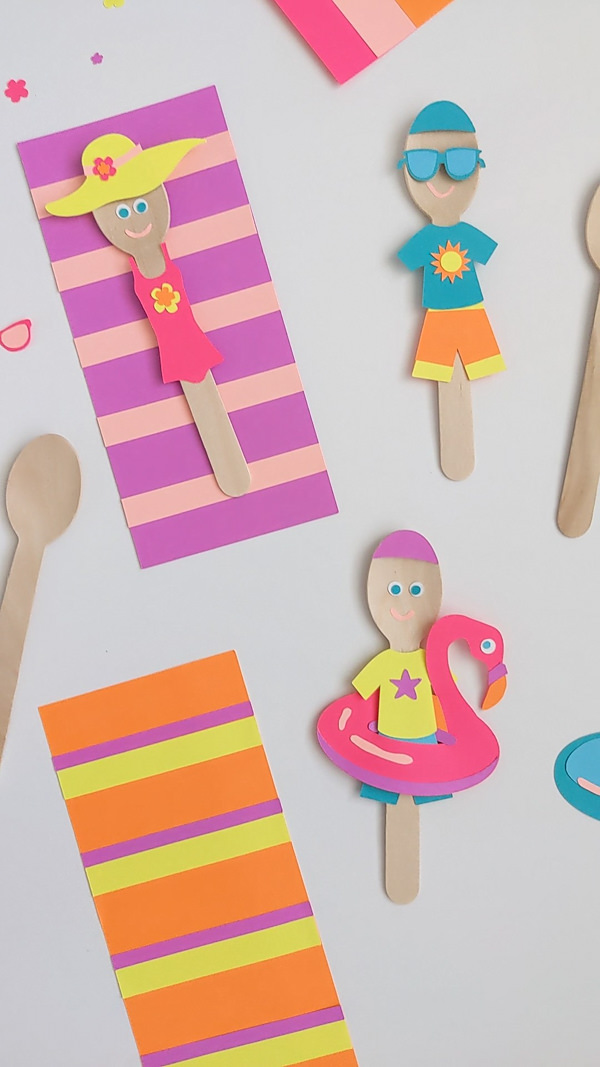 ++++
Kathy Beymer
Instagram: @kathybeymer
Pinterest: @merrimentdesign