TEACHER APPRECIATION WEEK JUST GOT BRIGHTER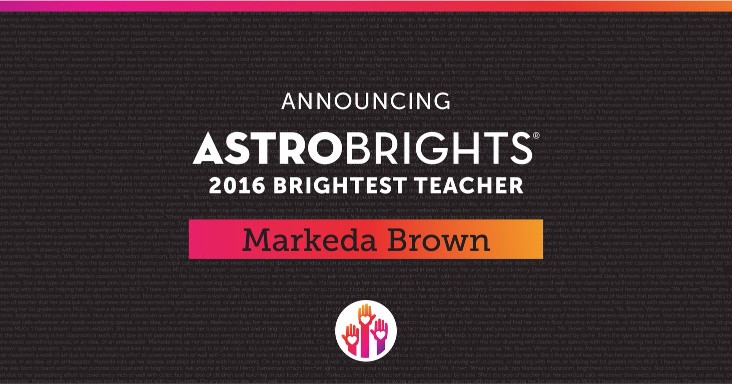 Astrobrights® Papers is closing out national Teacher Appreciation Week by recognizing the best in the profession. Today, the brand announces that Markeda Brown, a first-grade teacher at Patrick Henry Elementary School in Alexandria, Virginia, has been chosen as the 2016 Brightest Teacher.
From March through May, parents, students and peers were encouraged to nominate a deserving teacher on Astrobrights' ColorizeYourClassroom.com. Brown was selected from more than 1,500 entries that illustrated the exceptional ways teachers go above and beyond to make learning a brighter experience for their students.
Brown was nominated by fellow teachers for her ability to ensure that every child that she encounters feels special and valued. Other points of distinction were the high standards with which she holds her students to, eclipsed only by an even higher belief in their potential.
"We are always impressed by the creativity and ingenuity of teachers and Markeda clearly exemplifies those qualities," said Jeremy Frank, senior manager of consumer brands for Neenah Paper. "This program gave people an outlet to express their gratitude and say 'thanks' in a way that will ultimately benefit the Brightest Teacher and her students."
Astrobrights, the market leader in color paper, is a popular tool for teachers to help set students up for success in the classroom. Studies show that color can help increase memory by up to 50 percent and keep students engaged. The power of color paper to help facilitate an impactful learning environment has made educators an important consumer group for Astrobrights.
As the Brightest Teacher, Brown will receive a classroom makeover designed by the Bright Minds, a team of education-focused bloggers that serve as Astrobrights' brand ambassadors. The Bright Minds have expertise in a number of areas that enhances learning for students including classroom décor, lesson plans and organization. Those skills will be used to design a customized classroom that fits needs of Ms. Brown and her students to enrich their learning throughout the year.
The fully colorized classroom will be revealed in August during the back-to-school season and will serve as the kick-off for Astrobrights' annual Colorize Your Classroom Contest.
For more information on Astrobrights, visit thepowerofpaper.com
###
Neenah (NYSE: NP) is a leader in premium image and performance-based products, including filtration, specialized substrates used for tapes, labels and other products, and high-end printing papers. Products are marketed under well-known brands such as CLASSIC®, ASTROBRIGHTS®, ENVIRONMENT®, CRANE®, ROYAL SUNDANCE®, SOUTHWORTH®, KIMDURA®, Gessner®, CRANEMAT™, CRANEGLAS™, JET-PRO®, SofStretch™ and Varitess®. Neenah is headquartered in Alpharetta, Georgia, and its products are sold in over 70 countries worldwide from manufacturing operations in the United States and Germany. Additional information can be found at the company's web site, www.neenah.com.