DIY Campfire Playset Summer Craft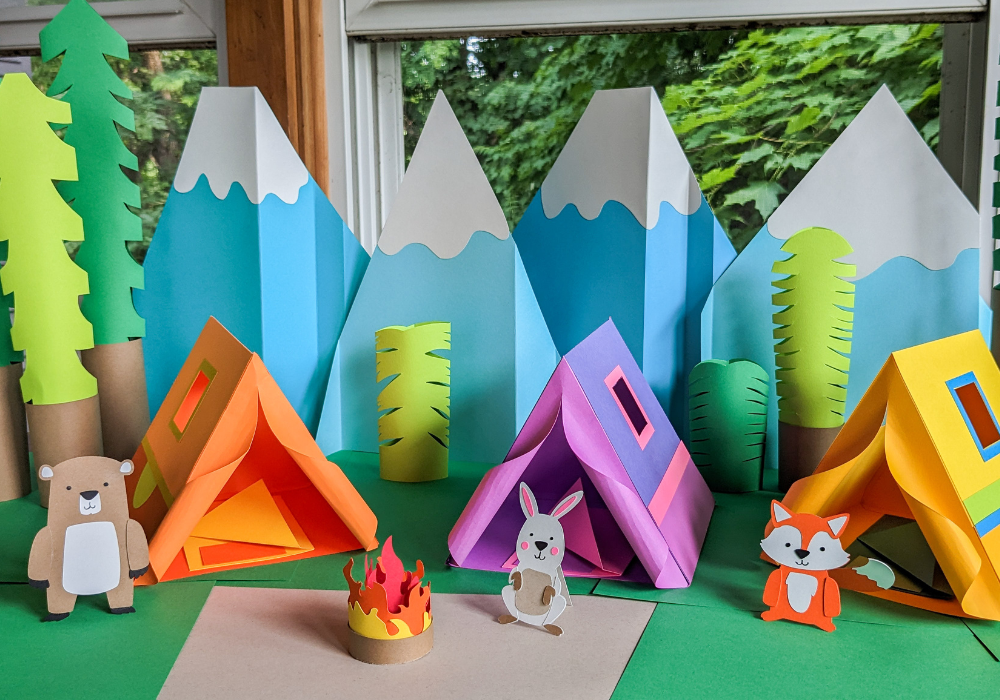 BY KATHY BEYMER
Merriment Design

Step into the great outdoors without leaving your living room! Today I'm sharing my cute DIY paper camping playset that you and your kids can make for pretend play this summer.
Astrobrights® asked me to design a summer paper playset using their new Astrodesigns® 12" in x 12" in cardstock paper packs. I have lots of great camping memories as a kid, so I designed a colorful paper campsite for you that's perfect for playing pretend on rainy days and hot afternoons.
Pitch paper tents, create towering trees and tall mountains, and get ready to tell campfire tales around the flickering glow of a paper mini campfire. I've created all the printable templates that you'll need to make your crafty campsite a roaring success.
Kids can choose to 'go camping' with their own action figures and mini stuffies, or you can make my paper woodland pals -- Bear, Fox, and Rabbit -- that fold up to fit inside paper sleeping bags.
So grab a pack of 12 in x 12 in Astrobrights® cardstock paper and start making my camping playset that will leave your little campers begging for s'more!
Be sure to see more of my summer paper crafts for Astrobrights® including my S'mores Paper Campfire Playset, 3D Paper Seashells Craft, Paper Cicadas Party Craft, and Silly Swimmers Wooden Spoons craft.
Supplies:
Kathy Beymer's Printable Camping Playset PDF
Astrodesigns® 12" in x 12" in cardstock packs in your favorite colors -- I used Delightful, Ocean, and Fall Colors

Scissors and optional craft knife, metal ruler, and self-healing mat

Glue stick

Double-sided tape

Washi tape or clear tape

Toilet paper cardboard tubes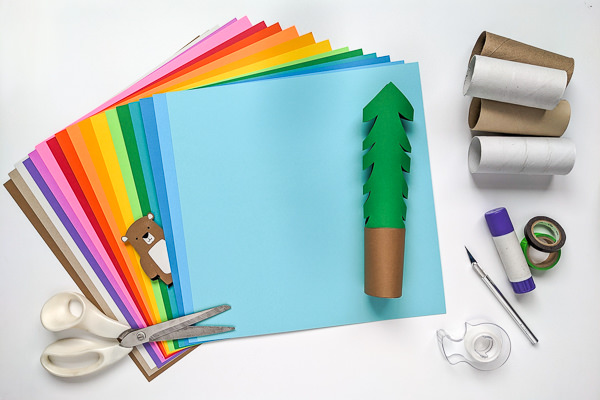 How to make the Campfire Playset
First, download and print my camping playset templates onto printer paper. Cut out the templates; be sure to print two tent top templates and tape together at the dotted line to make one large tent top template.
To Make Tents:
Step 1: Trace my tent templates onto your chosen colors of 12 in x 12 in Astrodesigns cardstock paper and cut out. Cut tent windows using scissors or adults could use a craft knife. Fold the tent pieces along all dotted lines.
Step 2: Glue the top tent piece to the bottom tent piece and let dry.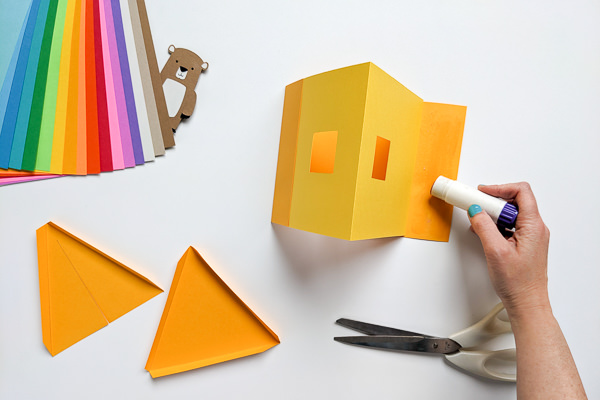 Step 3: Attach the tent back using double-sided tape.
Step 4: For the front tent flaps: tightly roll each flap around a pencil to create the illusion of rolled fabric. Attach the tent front using double-sided tape.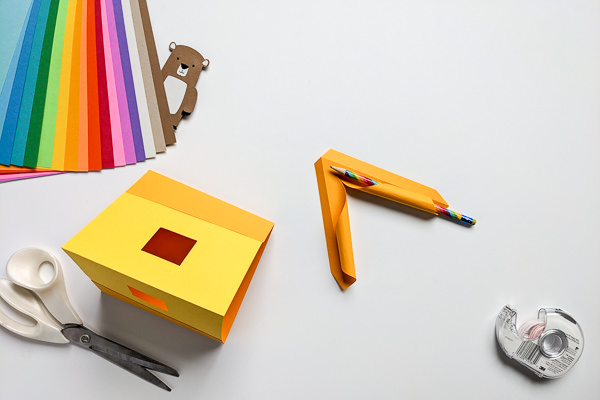 Step 5: Add tent window details and any additional tent decorations that you wish.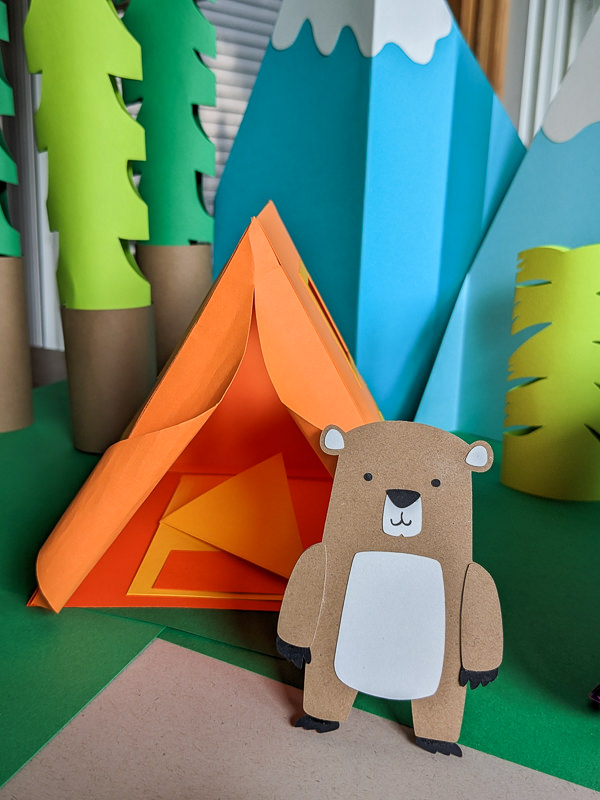 To Make Sleeping Bags:
Step 1: Cut out sleeping bags using your favorite Astrodesigns colors and fold along the dotted lines.
Step 2: Fold back the top edge of the sleeping bag in a triangle.
Step 3: Secure the sides with washi tape. Add a paper pillow. Decorate the sleeping bags with cut paper or markers as you wish.
To Make Trees: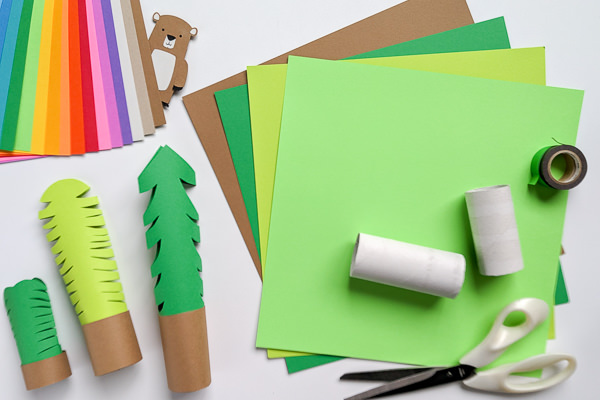 Step 1: Cut 5 in x 12 in strips of Gamma Green™, Martian Green™, and Terra Green™.
Step 2: Fold the long left and right sides into the center and secure with washi tape to make green, flattened tubes of paper.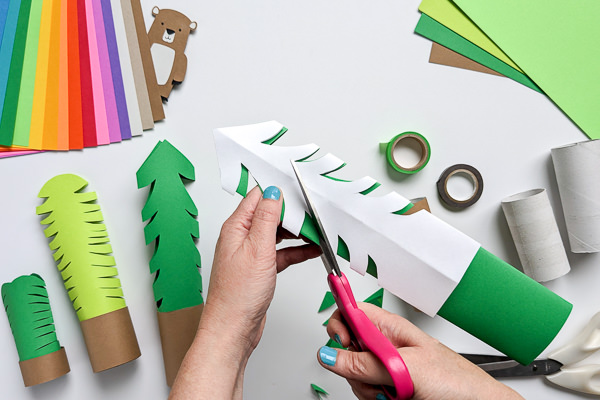 Step 3: Use my tree template to cut out foliage. Shape the trees into a round tube.
Step 4: Cut toilet paper tube "trunks" in various sizes. I made my trunks 1", 2", 3" and 4" tall. Cut pieces of Grocer Kraft Astrodesigns paper to fit and wrap around the trunks. Glue and secure the seam with washi tape.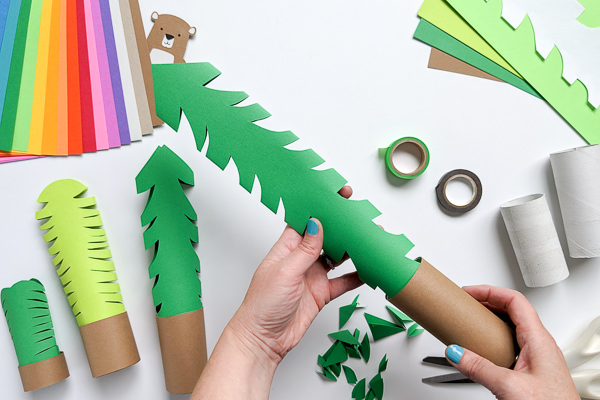 Step 5: Tuck green foliage inside the trunks and place the tall trees around your campsite.
To Make the Campfire:
Step 1: Cut out campfire pieces from Re-Entry Red™, Cosmic Orange™, Solar Yellow™.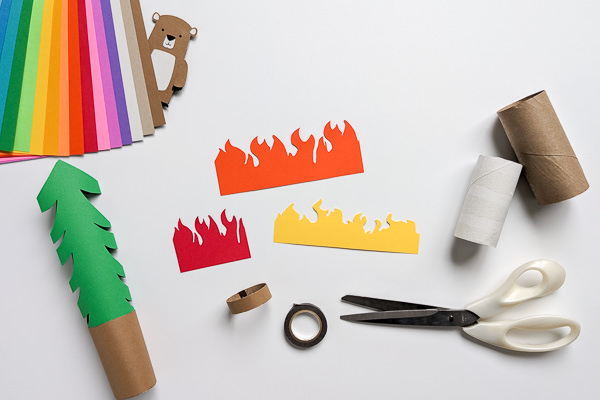 Step 2: Cut a ½-inch tall piece of a cardboard toilet paper tube to use as a fire pit. Cover with Grocer Kraft paper.
Step 3: Gently bend the orange and yellow flames into a circle and place inside the fire pit. The toilet tube fire pit will hold them in place. Fold the red flames into a triangle and set inside the middle of the fire pit.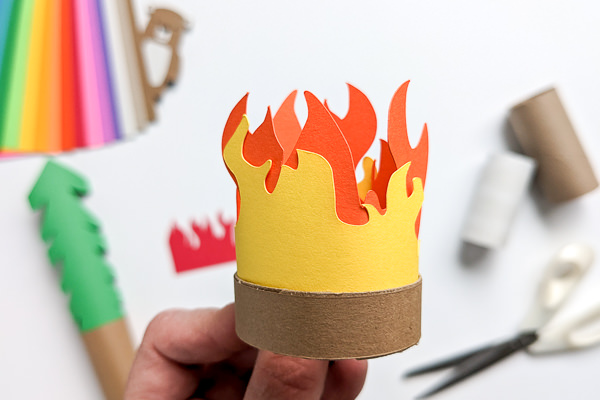 Step 4: Place a piece of Desert Storm™ onto your campsite to create a fire pit seating area and add the campfire.
To Make Tall Mountains:
Step 1: Freehand cut tall mountain shapes from 12" x 12" Astrodesigns cardstock paper in Terrestrial Teal™, Sea Glass™, Celestial Blue™, and Lunar Blue™.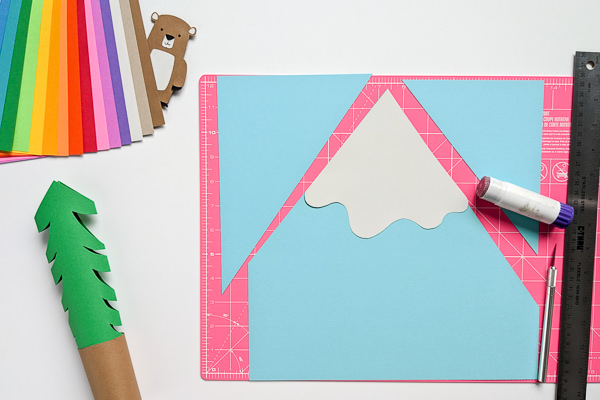 Step 2: Cut snow for each mountain peaks using Antique Gray™ and glue.
Step 3: Use a ruler to bend the paper into vertical folds so that the mountains will stand up on their own. Place mountains around your campsite.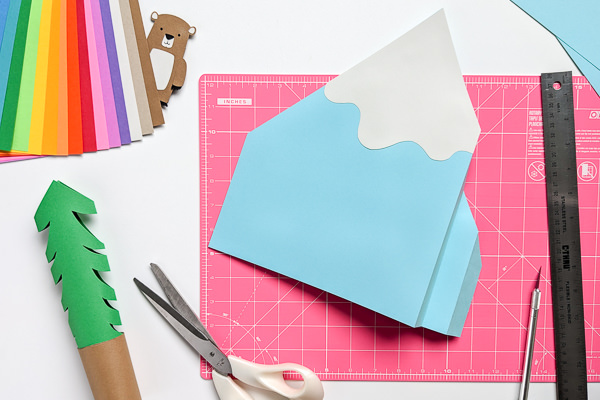 To Make Woodland Pals:
Step 1: Cut out all pal pieces from Astrodesigns cardstock paper.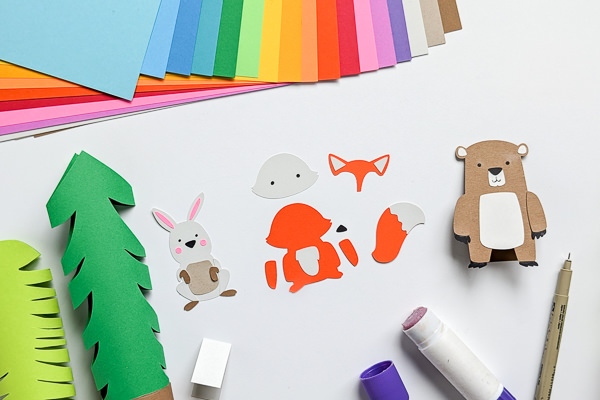 Step 2: Glue pieces together using a glue stick.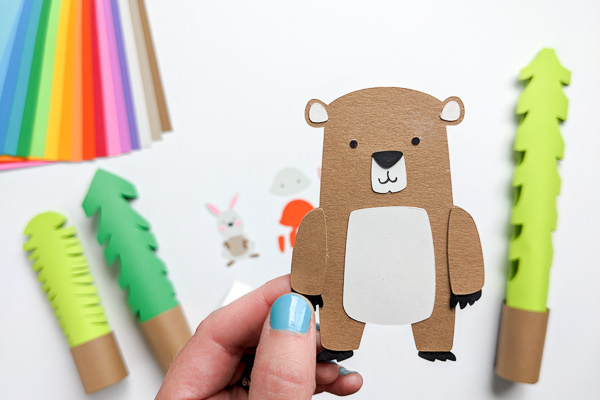 Step 3: Fold a strip of paper and glue to the back to create a collapsible stand for your pal.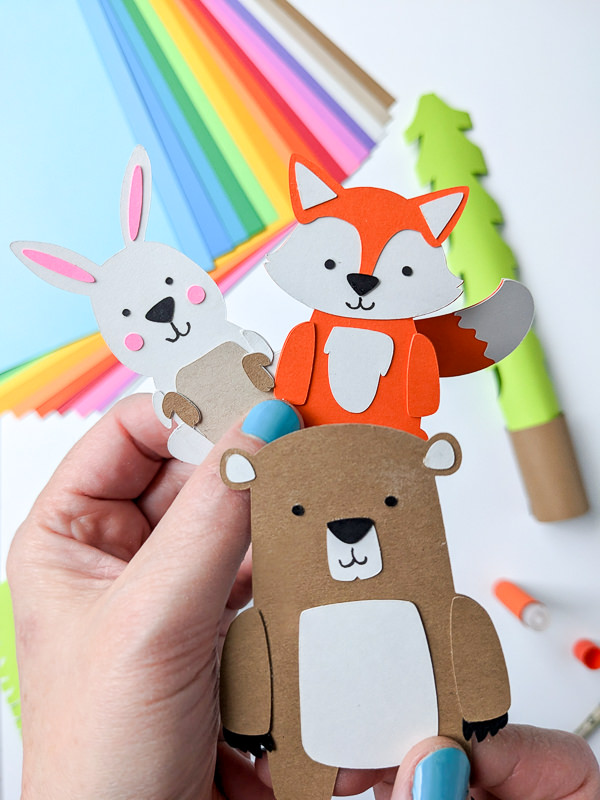 Be sure to see more of my paper crafts for Astrobrights® including a S'mores Campfire Paper Playset.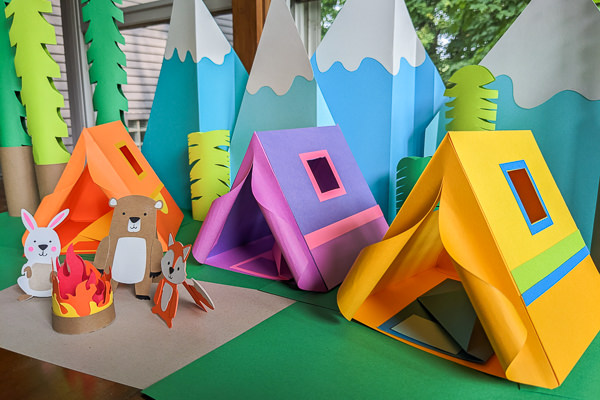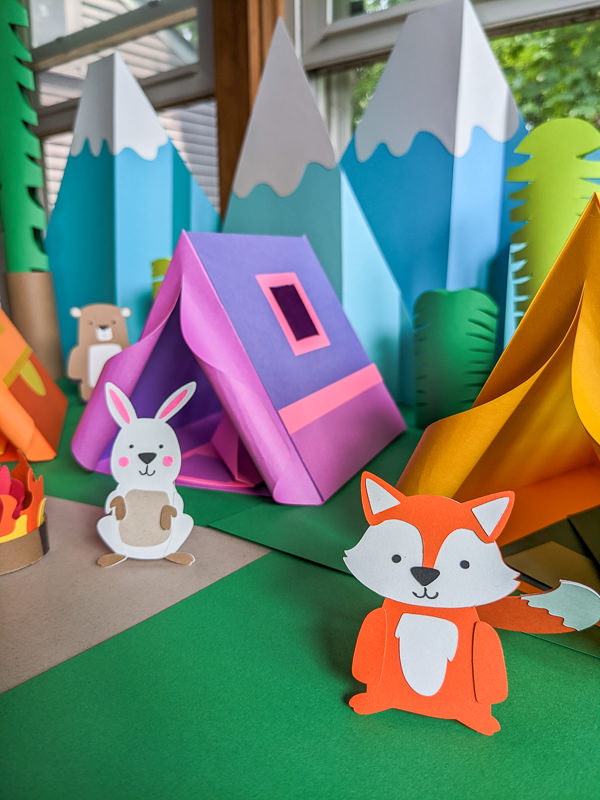 Kathy Beymer
Instagram: @kathybeymer
Pinterest: @merrimentdesign